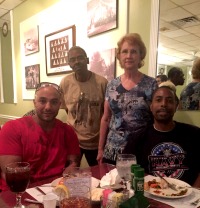 Belonging to a Lodge means belonging to a community. And when you walk into Tampa, Fla., Lodge No. 708, you walk into a community that opens its doors not only to members, but to those who have served our country and need an extra hand up.
The Lodge uses a Freedom Grant to run a year-long project for residents at the James A. Haley V.A. transitional living facility. Lodge members use grant funds to help residents with immediate material needs, including rain gear and computer hardware for school and job searches. In addition, the Elks run a dinner about once a month for about 64 residents.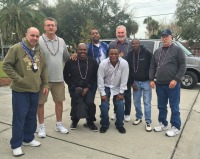 "We provide an opportunity for these formally homeless veterans to socialize in a caring, supportive environment," says project manager Rita Smith. "Almost every night, we had so many show up that there were no seats left in our dining room—there were always big hugs all around when they left."
Tampa's successful grant project is just one of 180 funded by a Freedom Grant last year. The active, ongoing events serving veterans in one of the five areas of increased need made the application a strong, fundable grant project.
Want in on the action? Not sure where to start? Check out our veterans webpage for project ideas and links to resources. Don't forget to watch our film series One Last Stand: The Fight against Homelessness for even more inspiration.
Freedom Grant applications close on July 31 at 12 p.m. (noon) Central Time. Read up on the guidelines, and submit an application today!
The Elks National Foundation ensures our veterans are never forgotten. In 2016-17, the ENF granted $1.46 million to serve veterans through the Elks National Veterans Service Commission, and pledged $1 million to help the commission end veteran homelessness. For more information about the Veterans Service Commission, visit elks.org/vets.