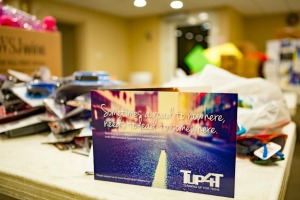 "Sometimes a road to nowhere needs to lead to somewhere."
The quote is scripted on the glossy Teaming Up for Teens brochure. Tucked inside, a resource card lays out food, health and support program locations and contact information for the western suburbs of Minneapolis. The piece, which goes in each supply bag, is polished, supportive and hopeful—much like the entire crew running the Hopkins, Minn., Lodge No. 2221 Impact Grant project. In May, ENF staff Colleen Muszynski, Jocelyn Moya and Maryann Slater witnessed the Hopkins crew in action first hand during Impact Grant site visits to Hopkins and Minneapolis, Minn., Lodge No. 44.
Hoppin' to Hopkins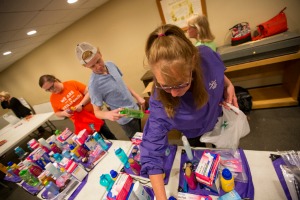 The Hopkins Lodge has received an Impact Grant for four years to create a strong support service for more than 250 homeless teens. In the suburbs, the problem of teen homelessness isn't pronounced—there aren't teens sleeping in tents, park benches or even homeless shelters. These kids are staying with friends temporarily, or hopping from couch to couch. They attend school and participate in extra-curriculars, but don't have the material or emotional support at home.
At the helm of this impressive enterprise is Dedria Noll Kelm. The youngest of 12, DeDe still remembers her mother opening up their three-bedroom, one-bath house to a number of neighborhood kids who needed a place to crash or a meal to get by. An Elk since 2009, DeDe joined the Lodge with a passion for this cause and some experience under her belt.
"It's striking how well DeDe understands the nature of this issue," says Jocelyn Moya. "She's willing to listen to what community partners have to say and adapt to their needs—and that's crucial when handling an issue like this."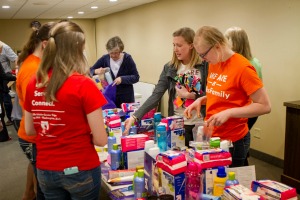 During the site visit, ENF staff met with nonprofit employees and school social workers who have witnessed the impact of Teaming Up for Teens first hand. Everyone echoed the same sentiment—the Elks are consistent, reliable, easy to work with and passionate.
"It was inspiring to hear third-party organizations talk about the Elks as a force for change in the community," says Maryann Slater.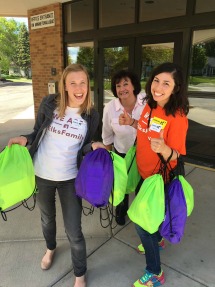 Teaming Up for Teens packing events occur monthly and regularly engage other members of the community, including youth groups, sports teams, Scouting troops. Any group that wants a chance to give back is welcome to stuff the signature green and purple bags. Once back at the Lodge, the ENF staff was able to participate in a packing event. Together with Lodge members and three local Elks scholars, Colleen, Jocelyn and Maryann helped pack more than 140 support packs, tailored to the needs of teens during the summer months.
An Avenue Home
Youth homelessness in Minnesota has jumped 63 percent since 2009, according to a study conducted by Wilder Research. Minneapolis, Minn., Lodge No. 44 has stepped up to help by supporting a brand-new teen homeless center run by Avenues for Youth Homelessness in nearby Brooklyn Park.
ENF staff met with Impact Grant Project Manager Jerry Shoults, key Elk volunteers, and Avenues staff for a facility tour and talk. The home center has 12 beds total, with a full kitchen and support staff on hand 24/7. The Lodge helps with a number of projects year-round, including landscaping and outdoor maintenance, monthly dinners, and supply drop-offs.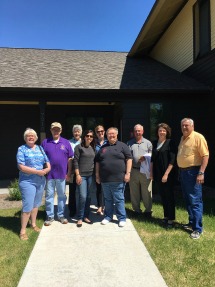 Avenues staff expressed their gratitude to the Elks for their reliable, continual support of the center. Thanks to organizations like the Elks, the center was able to go from plan to reality in just 18 short months. Now that it's fully functioning, it's clear that Jerry and his team of Elk volunteers are always just a call away to help.
Long Journey, Big Impact
ENF staff made the 400-mile journey to Minneapolis with one goal—to meet the dedicated volunteers who run the Impact Grant projects at Hopkins, Minn., Lodge No. 2221 and Minneapolis, Minn., Lodge No. 44, and see the projects in action. Both Impact Grants share the unique goal of supporting teens experiencing homelessness, and both tackle this problem in different ways. The projects might not be identical, but they are the most inspiring things happening in the twin cities.
Check out more photos from the visit here!
The Elks National Foundation helps Lodges serve their communities in significant and ongoing ways by awarding Impact Grants of up to $10,000. Any Lodge can apply for these competitive grants. To find out more about Impact Grants and the Community Investments Program, visit elks.org/cip.