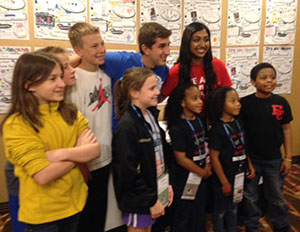 Ask any of the 72 Hoop Shoot National Finalists who their role model is, and they'll likely respond with Michael Jordan. But now, they can add a few more names to their role model list after meeting several Elks scholars.
During the 2015 Elks Hoop Shoot National Finals in Springfield, Massachusetts, last weekend, Elks scholars were on hand to help with the contest and to spread the word about Elks scholarships.
Three Elks Scholar Advisory Board members—Nate Baker, Anji Radakrishnan and Macy Warburton—flew in for the weekend. There, they played with the finalists in the Elks Kids' Zone, explored the Basketball Hall of Fame, and shared their knowledge with the finalists during the Drug Awareness Program Quiz Show. The Elks scholars and finalists even got their own trading cards to trade with one another.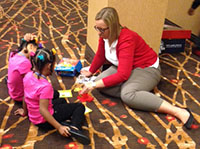 "The Hoop Shoot is a wonderful weekend of reconnecting with old friends and meeting new ones," says Anji. "The Elks have proven time and time again how much they believe in and support our youth, and this competition is no exception. From posters and Wii games in the Kids' Zone, to visiting the Hall of Fame, to the actual National Finals itself, my experience this weekend was filled with laughter, excitement, and lots and lots of trading cards!"
The day of the big contest, we were also joined by Annaka Paradis-Burnett, Sufia Mehmood, and Caitlin Ner, all of whom attended the inaugural Most Valuable Student Leadership Weekend in Chicago last year and were eager to see what the Hoop Shoot was all about.
During the contest, Nate and Macy got to work rebounding balls for the girls, Anji ran the shot tracker so fans from home could follow along with the score, and Annaka, Caitlin and Sufia served as chaperones.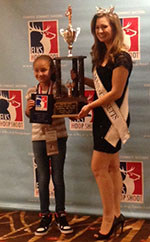 The day wrapped up with a visit from another Elks scholar—2009 Legacy Scholar Lauren Kuhn. Lauren attends the Harvard School of Dental Medicine and is the reigning Miss Massachusetts—and was among the top five in the 2015 Miss America competition. Lauren, a former Hoop Shoot participant herself, shared her positive message and encouraged the finalists to never give up and set their goals high.
Thank you to all these Elks scholars for lending a hand and showing the Hoop Shoot National Finalists how to be winners on and off the court.
Through the Elks National Hoop Shoot Free Throw Program, the Elks National Foundation offers youth the opportunity to engage in healthy competition, connect with their families and community, and succeed both on and off the court. In 2015-16, the ENF allocated $924,070 to fund this program, which includes the exciting addition of a Hoop Shoot app for contestants. For videos, news from the court, and more information about the Hoop Shoot, visit www.elks.org/hoopshoot. For more information about our scholarship programs, and for ways Lodges can get involved with Elks scholars, visit www.elks.org/enf/scholars.