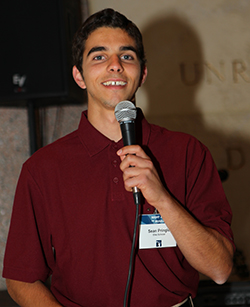 To Elks scholars Nationwide,
My name is Sean Pringle and I'm a senior civil engineering student at California Polytechnic State University (Cal Poly) in San Luis Obispo. As I come to my last year as an undergraduate student, I am thankful for the opportunity I've had to serve on the Elks Scholar Advisory Board.
As a freshman at Cal Poly, I got together with other Elks Scholars on my campus. That year, we visited our local Lodge—Oceano/Five Cities, Calif., Lodge No. 2504—to help out during special dinners. We also served at a senior home, playing card games and talking about the Beatles (I ran a Beatles Fan club back in high school). Since then, I have coordinated multiple events to bring scholars to the Lodge and other surrounding Lodges to help connect them to the Elks during their college years. As a sophomore, I participated in the Elks Scholar Speaker Program, where I spoke at a Lodge meeting about my freshman year, and enjoyed sharing a meal with Elks.
As an SAB member, I've had the unique opportunity of providing input on how to strengthen the tie between Elks scholars and Lodges. In this process, I have been able to meet a number of Elks members, and gain a deeper understanding of the Elks organization and the charitable arm of the Elks—the Elks National Foundation.
My current plans are to enter into the Master's Program in civil engineering at Cal Poly next fall and continue serving my local Lodge with other Cal Poly Elks scholars. Looking back, I value all of the opportunities I've had to work with the Elks and provide time and help to the organization that has supported me throughout these four years of college.
I encourage all Elks scholars to spend time each year reaching out to an Elks Lodge near their college and/or their home to provide service and show appreciation for the support you have received in school. To learn more about how you can get involved with the Elks, visit www.elks.org/ENF/elksscholars.
Yours in Scholarship,
Sean Pringle
Elks Scholar Advisory Board
California Polytechnic State University