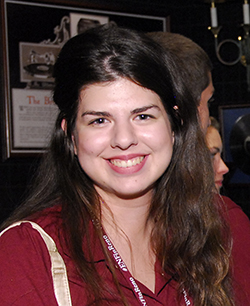 Hi, Elks scholars! I hope you're all making it through finals happily and healthily and are ready for a well-deserved break. My name is Olivia Valdes, and I'm an At Large representative on the
Elks Scholar Advisory Board
.
I'm in my sophomore year at Yale University, and while I haven't declared a major yet, I've been studying literature, history, media, and social justice, so my area of focus is already pretty specific! I'm hoping my future career can combine working to solve social issues with my love for new media and journalism.
On campus, I'm a managing editor for the Yale Literary Magazine, which publishes student prose, poetry and artwork twice a year. As managing editor, I'm in charge of the submissions process and all the logistical tasks that go into producing a magazine (in other words, I do a lot of emailing). Our fall issue just came out, and we had a great release party to celebrate it. I also host a weekly show on WYBC, our campus radio station and have a great internship at Yale University Press.
Becoming an Elks scholar and joining the Scholar Advisory Board have been two of the most exciting surprises of my college career. Seriously, spending time with the Elks and my fellow SAB members in Reno proved to be one of the most fun weekends of my summer. Right now, I'm organizing an Elks scholar meet-up here in New Haven to try to bring together the scholars on campus and the Elks here in town. Hanging out with other Elks scholars can be a great way to know new people on campus. If you're interested in hosting a meet-up or getting in touch with the Elks Lodge in your college town, send a message to scholarship@elks.org!
It's December, so my advice is this: REST. If you're a freshman, the last few months have been amazing but also exhausting, draining, and hard, hard work; if you're an upperclassmen, well, you and I both know how much you need sleep. No matter how the last semester went, you'll have a fresh start come January (or February, you lucky people with extra-long breaks) and you deserve to put your feet up, relax with your family and friends, and eat lots of good food absolutely worry-free.
Good luck on your exams, happy holidays, and all the best for a wonderful New Year!
-Olivia Valdes
2012 Elks MVS Scholar
Sponsored by Boca Raton, Fla., Lodge No. 2166