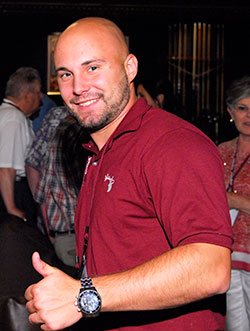 My name is Devin Noonan and I am an Elks scholar alumni and at-large member of the
Elks Scholar Advisory Board
.
I graduated from Rutgers University in 2012 with a Bachelors of Science in both Psychology and Exercise Science with a Sports Management concentration. Naturally, I now work in a field that is completely unrelated to either of my undergraduate majors. I'm currently a charity fundraising specialist at A. S. Charity Fundraising where I help non-profits across the country increase their revenue at fundraising events.
I'm an active member of my fraternity's graduate chapter where I serve as the alumni advisor and social media/scholarship chair. Much like my involvement with the Elks Scholar Advisory Board, it gives me great pleasure to give back to an organization that helped support me through my college years.
I'm also a contributor to Pro Football Spot, a relatively new football website and forum where I cover my favorite team, the Miami Dolphins. In my free time, I enjoy hitting the links for a round of golf, cooking, and spending an evening out for dinner and a show. Since my office is located in New York City, just a block away from Madison Square Garden, I try to stop in and catch a Rangers or Knicks game when I get a chance.
In addition to being an Elks scholar, I will also be officially initiated this month to the Benevolent and Protective Order of the Elks. My advice to fellow scholars and Elks members alike would be to form those long-lasting relationships with one another and maintain open lines of communication. While earning a scholarship for college is a wonderful thing, that's just the tip of the iceberg of what the Elks have to offer!
---
Back to top