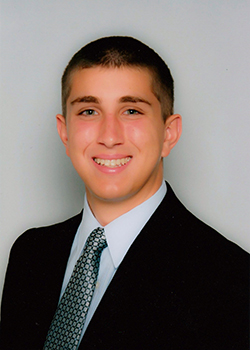 Welcome to the Elks National Foundation website! My name is Nathan Baker and I am the freshman representative on the
Elks Scholar Advisory Board
which is made up of eight Elks scholars.
I hail from Altoona, Pa., and am studying at Cornell University in Ithaca, N.Y., as a Government major. I would like to work in foreign service, law, public policy or even elected office (you should remember my name and vote for me someday!).
On campus, I play trombone in the Big Red Marching Band (the only REAL marching band in the Ivy League) and perform with the Pep Band as well. I practice my legal skills in mock trial, spike and serve with the Men"s Volleyball team, make my voice heard in student government, and participate in various other political and social clubs. I also drive the Zamboni at Lynah Rink. College has been an exciting (and busy) transition in my life. If you'd like to follow my journey and hear some fun stories, check out my monthly blog posts on the ENF Blog.
Some of my hobbies include traveling, watching and playing various sports (especially ice hockey--GO PENS!), and trivia. Hopefully someday I can be on Jeopardy's! College Tournament.
As an Elks scholar and Scholar Advisory Board member, I have already learned about the vast majority of resources provided by the Elks and the fact that the Elks are a caring (and fun) group of people. After attending a few events and the National Convention in Reno this summer, I know that the Elks are a family that I'm proud to be a part of. The Elks provide me the opportunity to get connected with other students on my campus, to Lodges wherever I am, and to Elks across the country. Elks Scholars and Elks members alike should take the time to get to know one another. We have the resources and connections, so let's make it happen! Email scholarship@elks.org if you'd like to connect with your local Elks Lodge.
If I were to offer some words of wisdom to readers it would be: Don't spend too much time thinking or planning. Hardly anything has ever been accomplished because someone simply thought about it. Once you've got your footing, jump on in! Start doing more often than thinking and I assure you your life will improve with new and fun experiences. Just count to three and do it!
Until next time fellow Elks and scholars, thanks for reading!
Nate Baker
2013 MVS Scholar
Sponsored by Tyrone, Pa., Lodge No. 212