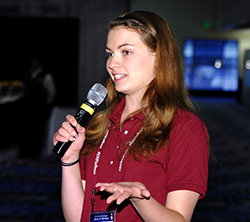 Hi Elks scholars! My name is Maryann Slater and I'm currently the President and Junior Representative of the
Elks Scholar Advisory Board
.
I'm a junior at Rutgers University in New Jersey with a double major in Spanish and Communication. I started out as an English Major planning to become a teacher, so for any of you who have changed your major or career aspirations I'm right there with you!
I'm the Artistic Director of the Livingston Theatre Company at Rutgers—a completely student run theater company that puts up three main stage musicals a year. This year we're doing Young Frankenstein, Hair, and Footloose!
On campus I also work as a tour guide and I recruit students to come to RU! Off campus I work as a dance teacher. I teach tap, jazz, and ballet to girls ages 6-13. I'm also certified to teach Zumba.
I am a huge New York Giants fan, and you can also find me in the student section of the Rutgers football games most weekends!
As you know, I'm also an Elks scholar! Being an Elks scholar means being a part of a network of students all over the country. By meeting Elks scholars at Rutgers I've been able to make a smaller community at school with friends who are already connected through our scholarships. As a part of the Elks Scholar Advisory Board, I've been able to meet other students from different parts of the country and make long lasting friendships with all kinds of people. Not many scholarships give you the opportunity that your Elks scholarship gives you—take advantage of all that being an Elks scholar has to offer!
My advice for the year: Challenge yourself to try something new each semester—you never know what you're missing out on! I'm constantly learning that it's so important to try new things while in college—some of my favorite things I'm involved with came from taking that leap of faith to challenge myself.
All my best wishes for a fantastic semester!
—Maryann Slater
2011 Legacy Awards Recipient
Sponsored by South Plainfield, N.J., Lodge No. 2298