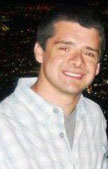 For many Elks scholars, pursuing their education means more than getting a degree and a good job. It means improving the lives of others while working toward a greater good. This is certainly true for 2010
Most Valuable Student scholarship
recipient Jared Leventhal, sponsored by Arvada, Colo., Lodge No. 2278. Jared is using his education to improve the standard of living for people along the Peruvian Amazon.
Currently studying for a dual degree in Civil Engineering and Business Administration at the University of Colorado at Boulder, Jared is using his engineering and business knowledge to affect positive social change on an international scale. Working with the NapoNet research team from the University of Colorado at Boulder, Jared and his colleagues partnered with Peruvian universities and local governments to connect health posts and expand access to telecommunications, a project initiated by the Global Fund to Fight AIDS, Tuberculosis, and Malaria in 2008.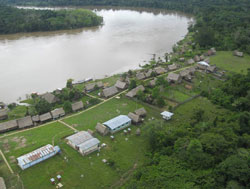 Jared's personal contributions included analysis of focus groups and interviews with local people to ensure meaningful impact, quantitative and qualitative community analysis, automation of data collection, and most recently the development of a sustainable venture to bring telecommunications access to rural farmers. This collaboration between the local people and the NapoNet team are giving the native community the opportunity to use technology to improve their standard of living – including their health, education and commerce.
The Influence of the Elks
Jared plans to take his experience and education helping others abroad to improve infrastructure here in the U.S.
"Too often we take our infrastructure for granted, but my study of civil engineering will allow me to apply my technical skills and contribute to the greater good of society," says Jared.
He credits his ENF Most Valuable Student scholarship and the Elks' example in helping him achieve his individual and professional goals.
"I view this scholarship as an investment in my education so that I can give back in the future," says Jared. "The ENF scholarship reminds me of the importance of volunteering and applying my resources."
He is also grateful for the support of his Elks family and the example they set.
"The presence of the Elks speaks for itself, but the people who I have met through the Elks are dynamite," says Jared. "The kindness and generosity extended to me makes me feel welcomed, and this influence shapes my behavior on a day-to-day basis."
Jared is a great example of a motivated and busy Elks scholar whose educational goals and desire to help others has been influenced by the Elks and his Most Valuable Student scholarship.
In his own words, "I do not choose to stay busy, but there are so many things that I want to do, I cannot help myself!"
In 2013-14, the Elks National Foundation allocated $2.44 million to fund 500 four-year Most Valuable Student Scholarships, which now feature 20 top awards of at least $20,000. For more information about the Most Valuable Student scholarship program, including eligibility and deadlines, visit www.elks.org/enf/scholars.