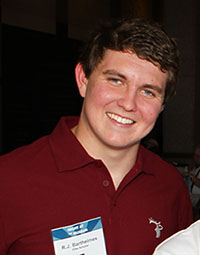 My name is R.J. Barthelmes and last May I graduated from Georgetown University with a B.A. in American Studies on Foreign Policy. I received a 2008 Most Valuable Student scholarship sponsored by St. Mary's County, Md., Lodge, No. 2092. For the past two years I have served on the
Elks Scholar Advisory Board
and it has been a privilege to see the ways the Elks scholar community has grown.
During my undergrad years, I embraced the Elks' values of treasuring community and service. The Elks afforded me the ability to serve others in ways I would not have been able to do without my scholarship. In particular, I loved building communities and serving in the Elks' spirit through working with at-risk students and social justice projects in DC and leading freshmen Campus Ministry retreats at school.
Today, I attend Georgetown's School of Foreign Service for a M.A. in Security Studies and work in Washington, DC. I met a wonderful girl and we will be married this June! In every way, the benevolence of the Elks has launched me into life, prepared with a world-class education, amazing set of experiences, and the Elks' values to aspire to live out.
My experience as an Elks scholar and a member of the Elks Scholar Advisory Board has spurred me to join the Elks organization, which I am doing as my wife-to-be and I tie the knot and settle in our (at least for the time being) final destination in northern Virginia. I am so thankful for the opportunity to be blessed by an organization such as the Elks. Please visit the Elks Scholar website for all the ways you can get involved and grow in this incredible community.
---
Back to top