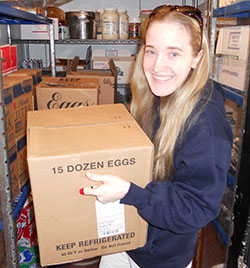 Greetings, Elks Scholars! I'm Erika Barger, a third-year law student attending Florida State University College of Law. I am also a proud 2006 Elks National Foundation Legacy Awards recipient. I have thoroughly enjoyed serving as a member of the
Elks Scholar Advisory Board
for the past three years.
In my free time, I enjoy participating in campus activities like the Journal of Land Use and Environmental Law, Phi Alpha Delta Law Fraternity International, and the Federalist Society for Law and Public Policy Studies.
On the weekends, I enjoy attending the Florida State Seminoles football games. I also have a passion for traveling, and take pleasure in volunteering on various governmental campaigns, community activities, and at my local Elks Lodge.
In 2008, I continued my family's nearly 100-year tradition of Elks membership by becoming a fourth generation Elk and joining the Ormond Beach Elks Lodge in my hometown. I am in my second year serving as my Lodge's Government Relations Chair and Lodge Scholarship Chair. I take great pride in helping award scholarships to deserving high school seniors in my community and being a small part of making their college dreams come true.
Being an Elk—and Elks scholar—means being part of the Elks family. This past summer, I interned with the U.S. Air Force Judge Advocate General's Corps in Lakewood, Wash. Being over 3,000 miles from home, the Lakewood Elks Lodge became like a second home for me. The members were welcoming and generous, and I made many close friends.
I have also enjoyed meeting and making friends with Elks scholars at my universities. During the past three years, I have organized Elks Scholar Meet-Ups and took part in the Elks Scholar Month of Service in April. It is exciting to meet students who share the common bond of the Elks. In organizing these meet-ups, I was surprised to learn that some of my close friends from my freshman year of college were also Elks scholars! At Florida State, I am currently planning another meet-up with the Tallahassee Elks Lodge, and we're looking forward to another successful Elks Scholar Month of Service project in April.
I encourage you to learn more about the Elks and the Elks Lodge nearest you. Click here to find your local Elks Lodge. There are a large number of volunteer opportunities and activities in which to become involved. Best wishes to you for success and happiness in this New Year.
To enhance scholar relations and communication, the Elks Scholar Advisory Board was founded in 2009. For more information about the Elks Scholar Advisory Board, please visit www.elks.org/ENF/scholars/ScholarAdvisoryBoard.cfm.