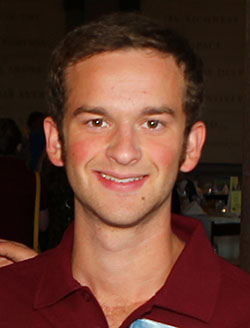 Hi Elks scholars, my name is Karsten Coates. I'm a freshman at the University of Virginia, a 2012 MVS scholar, and the newest member of the
Elks Scholar Advisory Board
. I'm currently planning to major in commerce with a minor in systems engineering, but my plans are most likely going to change a few more times.
During the weekdays at Virginia, I'm an active member of Student Council. I serve on the newly formed Entrepreneurship Innovations Committee—where my job is to help promote entrepreneurial endeavors in the UVA area and to connect student entrepreneurs with each other. I also participate in the Jefferson Rounds: small, student-run discussion based seminars that allow students to participate in intellectually stimulating conversations about current topics. In addition to these academically focused activities, I also participate in ballroom club and open-mic nights where I enjoy and participate in a variety of art forms.
On the weekends, I spend most of my time reading for classes (I never believed anyone when they told me I would be doing THIS much reading) or hanging out with my new-found friends—doing anything from launching pumpkins out of sling shots to climbing a mountain at 3 a.m. to watch meteors.
To be honest, before receiving my scholarship, I was not really involved with the Elks. Now, I've visited my local Lodge several times, was honored to serve as my Lodge's guest speaker during one of their annual events, serve on the Scholarship Advisory Board, and I'm currently planning an Elks Scholar Meet-Up at UVA. So even if you weren't a large part of the Elks community before, trust me, with more than 2,000 Lodges and nearly 850,000 members, it's not very hard to find away to give back to the Elks and to give back to your community. If you need help getting started or want to learn more about opportunities for Elks scholars, just visit the Elks Scholar website.
To enhance scholar relations and communication, the Elks Scholar Advisory Board was founded in 2009. For more information about the Elks Scholar Advisory Board, please visit www.elks.org/enf/scholars/scholaradvisoryboard.cfm.