Fidelity Club FAQ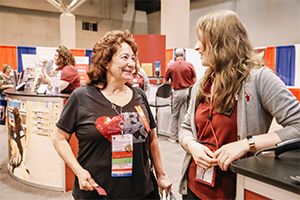 There's been a lot of buzz lately about the Elks National Foundation's monthly giving program—the Fidelity Club. So what does it mean to be a sustaining giver?
What is the Fidelity Club?
The Fidelity Club recognizes donors who support the ENF monthly with automatic, scheduled donations made through their checking account or credit card. These are referred to as "sustaining gifts."
Why is the Fidelity Club important?
This sustainable method of giving helps the ENF save on administrative costs so we can focus more time and resources on our programs, like scholarships and Community Investments Program grants. Monthly gifts help sustain our programs for years to come, and also help the ENF provide relief during times of crisis or increased need, like during the COVID-19 pandemic.
What is the minimum monthly gift amount?
To join the Fidelity Club, you can give as little as $5 a month. That's the equivalent of a fancy coffee or your favorite value meal!
Can I be in the Fidelity Club by giving annually?
The Fidelity Club is an exclusive recognition program for sustaining givers. To join the Fidelity Club, donors must establish an automatic, scheduled monthly donation through a credit card or checking account. Join the Fidelity Club at enf.elks.org/Fidelity, or mail the ENF a completed enrollment form found here.
Does my Lodge get per-member-giving credit for my Fidelity Club donations?
Yes! In addition to donors receiving personal recognition, your Lodge receives credit for your sustaining gifts.
How does the Fidelity Club benefit my Lodge?
Elks who join the Fidelity Club help their Lodge earn extra grant money through the Gratitude Grant Fidelity Club bonus. Gratitude Grants are the ENF's way of thanking Lodges that meet the National President's per-member-giving goal. Every Lodge has a goal for Fidelity Club membership that is based on 5 percent of the prior year's donors. If your Lodge reaches that goal, they will be eligible for a $500 bonus on its Gratitude Grant!
What recognition do I receive as a sustaining giver?
Fidelity Club members receive exclusive recognition from the ENF. Sustaining givers receive a Fidelity Club sticker for their membership card just for signing up. Plus, once you reach 12 monthly gifts, you receive a Fidelity Club pin. Fidelity Club members earn pin attachments for other benchmarks, like 25, 50 or 100 gifts. Fidelity Club members are listed on our Fidelity Club Honor Roll, and receive a special quarterly newsletter, as well!. Visit our Fidelity Club homepage for more details on our recognition pieces!
How do I update my billing information for my sustaining gift?
If you are a current or previous Fidelity Club member and need to update your billing information, please visit enf.elks.org/member for instructions on how to access your Fidelity Club account online. You can also call the ENF directly at 773/755-4764.
What day does my sustaining gift run?
If you sign up on the ENF's website, your gift runs on the day you sign up and on that same date each month. If you mail in an enrollment form, your gift will run on the day our Donor Services team processes your donation and on the same day each following month. If you sign up by mailing us a voided check, you can select your gift to be withdrawn on the 15th or the 25th of each month.
Can I designate my sustaining gift to a specific program or fund?
Yes, you can designate to any of the following ENF funds: Veterans, Scholarships, Hoop Shoot, Community Investments Program, Drug Awareness Program, all ENF Programs, or the ENF Endowment Fund.
Will I get acknowledgment letters or tax receipts for my sustaining gifts?
Fidelity Club members do not receive acknowledgment letters or emails, or monthly receipts for their donations. Every January, Fidelity Club members receive an annual statement listing their donations for the year for tax purposes.
Have more questions about the Fidelity Club? Feel free to contact us at fundraising@elks.org or 773/755-4762.
---
Back to top