Notice: Elks National Foundation Statement on COVID-19
Notice!
Like you, the Elks National Foundation is monitoring the rapidly evolving Coronavirus, COVID-19, outbreak. As the situation continues to unfold, we are following
CDC
and
WHO guidelines
on practical ways to prevent the spread of infection.
April 1, 2020: MVS Leadership Weekend Canceled: Given the unprecedented time we find ourselves in with the COVID-19 pandemic, the ENF has made the difficult, but necessary, decision to cancel the 2020 Leadership Weekend scheduled for April 23-26 in Chicago. The health and safety of our scholars is our number one priority.
We believe in the power of getting Elks scholars together and don't want to miss the opportunity to get to know our scholars better, even if it's virtually! We're planning on using video conferencing to conduct a portion of our Leadership Weekend programming, as well as the official interview.
March 31, 2020: Update-Headquarters Office Closed:
COVID-19: On March 31, 2020, the shelter-in-place order was extended through April 30. The ENF staff will continue to work from home and the office will remain closed.
March 20, 2020: Headquarters Office Closed:
COVID-19: On March 20, 2020, Illinois Governor J.B. Pritzker announced a shelter-in-place order for the entire state. Since the Elks National Foundation and BPOE headquarters are in Illinois, this affects our office. The office will be closed until April 7.
We will continue to work remotely; however, this will affect our mail and donation processing.
Lodges should NOT send donations through the mail. Instead, submit donations electronically as outlined here.
Donations received through the mail by March 31 will count toward the current fiscal year, but they will not be processed until our staff is able to. This means that the Gratitude Grant qualification could be delayed.
We appreciate your patience as we navigate this difficult planning environment.
March 19, 2020: CIP Update: Click here to read how the COVID-19 could affect the launch of the CIP grant year.
March 18, 2020: Hope in the Time of Coronavirus: Click here to read a blog post by ENF Director Jim O'Kelley.
March 17, 2020: White House Guidelines: The White House released guidelines to slow the spread of of COVID-19. Click here to read the guidelines. (PDF)
March 15, 2020: CDC Guidelines for Public Events The CDC, in accordance with its guidance for large events and mass gatherings, recommends that for the next 8 weeks, organizers (whether groups or individuals) cancel or postpone in-person events that consist of 50 people or more throughout the United States. Read the full guidelines here.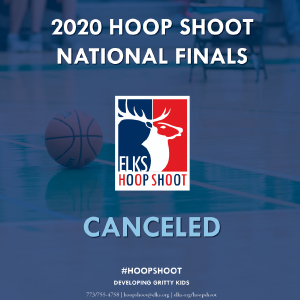 UPDATE: Hoop Shoot National Finals Canceled
March 13, 2020:
After careful consideration we've canceled the Hoop Shoot National Finals on April 16-19, 2020 in Chicago.
The following Regional Contests are canceled: March 14-New England Region No. 6, Central Region No. 9, and Southeast Central Region No. 10; March 21-North Central Region No. 3, Great Lakes Region No. 4, Northeast Central Region No. 5, Southwest Region No. 11 and Southeast Region No. 12.
The entire Hoop Shoot family is devastated by this news. The contestants and their families, for obvious reasons, but also the volunteers, who pour their hearts and souls into the program, and the staff, who've been planning the Finals for months.
The COVID-19 pandemic is an evolving public health threat, with continually changing mandates, closures and restrictions. Health and safety are our top priorities. We must do our part to not contribute to the spread of the virus.
Right now, planning next steps for the Hoop Shoot program is impractical, as the program is completely reliant on other entities that make their own decisions relative to the pandemic. We need time to figure this out, and as we have updates, we will post them.
Thanks again for your support and interest, and for your patience.
We all hate that this is happening to our Hoop Shoot, but the program is every bit as resilient as the kids who make it so great.
UPDATE: Lodge Grant Project Affected?
March 12, 2020: Has your Lodge's March grant project been canceled or postponed? Please contact the Community Investments Program office at LodgeGrants@elks.org to discuss options.
UPDATE: Wheeling Spring Elks Scholar Service Trip Canceled
March 11, 2020: After assessing the information provided by our partners in service in West Virginia and considering the health and well-being of the scholars, staff, Elks, and the populations they would serve throughout the week, the ENF determined to cancel the March 15-21 trip out of an abundance of caution.

The health of our program participants, fellow volunteers and Elks is paramount. Let's be vigilant in our efforts to keep one another healthy!
Check this page frequently for updates on upcoming scheduled events, e.g. Hoop Shoot National Finals. Please email enf@elks.org if have any questions or concerns.
---
Back to top