What you give in life, you get back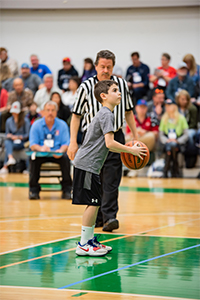 When Tommy Goodelle was 2, his father, Andrew, started teaching him how to shoot a basketball.
Leading up to the 2019 Hoop Shoot National Finals, they spent hours practicing. As Andrew drove Tommy home from their last practice before heading to Chicago, he felt choked up.
"Those are the special times," Andrew says. "I'm never going to get these times back. As a father, I can take myself back and look at this and say, 'he's prepared; he's ready; he's put in the sweat; he's put in all the work it takes to become a champion.'"
Tommy competed in the Hoop Shoot for the first time in 2019 after a flyer for the Lodge contest came home in his school folder.
He'd always loved basketball. Once he was introduced to the Hoop Shoot, Tommy was especially inspired by Joe Girard III, a 2012 Hoop Shoot National Champion from New York, like Tommy. At the time, Girard was a high school basketball star; he finished high school with 4,763 points—1,189 came from free throws. He now plays for Syracuse University and is one of the leaders in the ACC in free throw percentage.
When he heard how much Girard prepared for the National Finals—shooting 300 free throws per day from the time he was 9—Tommy committed to practicing more.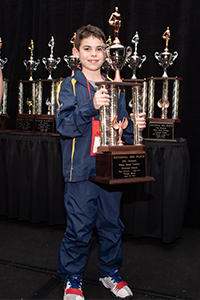 "We never once had to tell Tommy to practice," says Tommy's mother, Nicole. "He made up his mind and was driven by his goal."
Participating in the Hoop Shoot reinforced what Nicole and Andrew teach him every day—the value of hard work and preparation.
"If you want something, you must work hard and prepare yourself," Nicole says. "No matter the end result, you'll never walk away saying, 'I should've worked harder.'"
Tommy worked hard. He set a goal to make it to the National Finals in Chicago, and he did. He prepared every day with the hope to place in the top three in his age-group—and he did. Tommy stepped up to the free throw line. But he also stepped up as a kind and encouraging Finalist.
After every Finalist shot and returned to the bench, Tommy was there with words of encouragement and a high-five or handshake—no matter how they performed.
"You're a winner already if that's how you're going to act," Andrew says. "You don't need a trophy to tell somebody how good you are. You're going to give them a handshake, and people are going to know that's how good you are."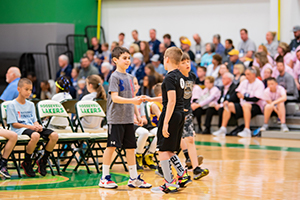 While participating in the Hoop Shoot, the Goodelles witnessed the Elks' commitment to their communities and their values of charity and brotherly love—virtues Tommy exemplified throughout the competition and beyond.
"These members are people who want to better the communities that they live in, and to be around people like that is inspiring," Nicole says. "We felt that it was important to become a part of that and to also try to give back because the Elks gave our family such a tremendous experience."
Nicole and Andrew joined Utica, N.Y., Lodge No. 33. Together with Tommy, they are working with the Lodge's grant coordinator to give back to youth in their community. Tommy, especially, feels it's important to pay it forward.
He wants to see the Lodge use an Elks National Foundation grant and donations from local businesses to provide local youth in need with new sneakers—similar to the Leave a Big Footprint program at Newburgh, N.Y., Lodge No. 247—and to hold a shooting clinic for those kids.
Tommy and Andrew were featured in the 2019 Griteo series. Check out their film below!
The Goodelles aren't the only Hoop Shoot family who decided to join their local Lodge—read more about the Silsbys and the Bowers, two families that plan to give back to the Elks out of gratitude for their Hoop Shoot experiences.
The Elks have been developing gritty kids through the Hoop Shoot program for nearly 50 years. For 2019-20, the Elks National Foundation allocated $1.1 million to fund the program. For videos, news from the court, and more information about the Hoop Shoot, visit elks.org/hoopshoot.
---
Back to top