Where'd You Get That Pin?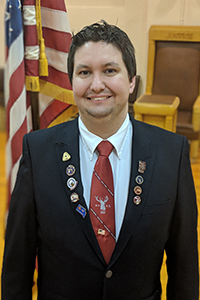 Cody Weikel, a hardworking member of Bluffton, Ind., Lodge No. 796, joined the Elks in 2015 looking for an opportunity to make a tangible impact in his community. After orientation, Weikel, who was slightly taken aback by the sheer amount of activities and initiatives at his Lodge, finally decided that the best way he could support his community was by becoming a member of the ENF Fidelity Club. For those who aren't familiar, the Fidelity Club is the ENF's monthly giving program. Instead of going through the hassle of sending checks, members can simply set up an automatic monthly gift through a credit card or bank account—making the Fidelity Club the easiest way to donate to the ENF!
Since his initiation, Weikel has most appreciated the simplicity and flexibility of the Fidelity Club.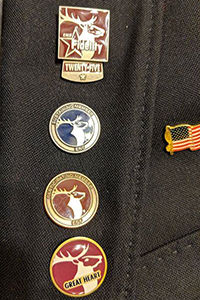 "It's basically set it and forget it," Weikel says. "I also like that I can make changes to my donations at any time if I want to increase my donations or stop them, if needed."
Additionally, members who donate with a monthly gift have access to more exclusive forms of recognition. Weikel, like many Elks, takes pride in decorating himself with various ENF pins and stickers. Often, members will ask how he got ahold of so many unique ENF items, and Weikel uses these moments to advertise the Fidelity Club! "It makes me feel inspired to tell others to become more involved with the ENF, and that they can start a pin collection that few others have," Weikel says.
If you're looking for an easy way to support the ENF, consider joining the Fidelity Club today! As Weikel puts it, "For less than the cost of a streaming subscription service, you can help make a huge impact in your community."
Give to the ENF with ease. Donors who join the ENF Fidelity Club, the ENF's monthly giving program, have their names listed on our website and receive a special pin. To learn more about participating in the Fidelity Club, please visit enf.elks.org/FidelityClub.
---
Back to top