Lodge #184 Home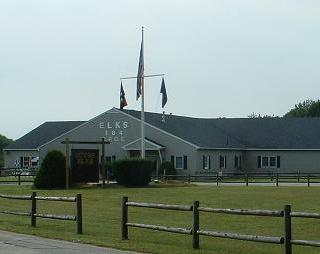 Visit the NEWS page for upcoming events and the Lodge newsletter.
SUPER BOWL Tailgating and Party (Outdoor Patio and Langlois Lounge) = Sunday, February 5th starting at 3:00 pm and going til the end of the game!!! Happy Hour prices start at 6:00 pm. Lots of food, fun, and fans!!!!
You can now visit us on Facebook! Click on the Links Page to the left to find us.
We Are A NON-SMOKING Facility

The Dover Lodge meets on the 2nd and 4th Wednesday of every month (except July, August, and November - 2nd Wednesday only) at 7:00pm.
Address: 282 Durham Road Dover NH
Operating Hours: Sunday 11:00am to 6:00pm. Monday & Tuesday 1:00pm - 7:00pm Wednesday & Thursday 1:00pm to 8:00pm. Friday & Saturday 1:00pm to 10:00pm (open later at bartender's discretion)
Interested in becoming a member? To view our On-line Membership Application, go to http://www.elks.org/members/emasFAQ.cfm
Directions: From Rte. 4 Take the RT-108 ramp toward DOVER/ NEWMARKET. Head toward Dover, Continue to follow NH-108. 1.95 miles, look for our sign on the right. From Rte 16 (Spaulding Tpke) take Exit 7 and take NH 108 towards Durham/UNH look for the sign on the left.
Please sign our Guest Book!
---
Back to top