Current Issue Online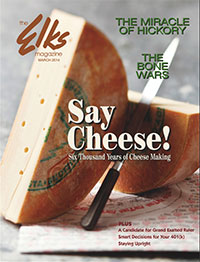 March 2014

Who are the Elks?
Elks are community.
No matter where you go in the country, an Elks Lodge is right around the corner. With more than 850,000 members and 2,000 Lodges nationwide, Elks are providing charitable services that help build stronger communities.
Click here to join us in service to your community!
Elks Magazine Online
Welcome! The Elks Magazine is published 10 times per year for the members of the Benevolent and Protective Order of Elks of the United States of America. If you'd like to submit fraternal news, please check out our fraternal news guidelines (Adobe PDF format).
If you're interested in writing a general interest article, here are our writers guidelines.
To submit materials or provide a photo, please download and fill out a submission form.
Current Issue: March 2014
Features
24
Say Cheese! Six Thousand Years of Cheese Making, by Elise Warner
Made in ancient Sumer as well as in modern Wisconsin, cheese has held a special place in world cuisine for eons.
30
The Bone Wars, by Bill Vossler
During the Bone Wars, two American paleontologists spent fortunes competing to discover the greatest number of fossils of extinct species.
38
The Miracle of Hickory, by Donald Haines
When polio came to North Carolina in 1944, the people of Hickory built a hospital virtually overnight and met the epidemic head-on.
46
Supporting Our Troops
Elks show they care by donating gift cards to soldiers and sending thank-you letters to troops serving overseas.
Departments
8
A Candidate for Grand Exalted Ruler
10
It's Your Business, by William J. Lynott
11
Healthline, by Elizabeth A. Reid, MD
48
Elks National Veterans Service Commission
56
Elks National Foundation
58
Elks Drug Awareness Program
---
Back to top