Current Issue Online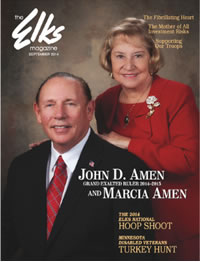 September 2014

Who are the Elks?
Elks are community.
No matter where you go in the country, an Elks Lodge is right around the corner. With more than 850,000 members and 2,000 Lodges nationwide, Elks are providing charitable services that help build stronger communities.
Click here to join us in service to your community!
Elks Magazine Online
Welcome! The Elks Magazine is published 10 times per year for the members of the Benevolent and Protective Order of Elks of the United States of America. If you'd like to submit fraternal news, please check out our fraternal news guidelines (Adobe PDF format).
If you're interested in writing a general interest article, here are our writers guidelines.
To submit materials or provide a photo, please download and fill out a submission form.
Current Issue: July/August 2014
Features
24
Elks GER Millard Pickering Goes to Washington, by Shawn Bullard
While in Washington, DC, GER Millard C. Pickering paid respect to fallen heroes and offered the Order's help to national leaders.
32
Peter Francisco: America's One-Man Army, by Mark S. Longo
Peter Francisco appeared in the American colonies under mysterious circumstances as a boy and grew into an American hero.
38
The Manhattan Project--A Secret Kept by 130,000 People, by Linda McMaken
Beginning with a letter to FDR, the Manhattan Project spanned the entire nation and amazingly remained a secret.
46
Ex-Presidents--A Varied Group, by Martin D. Tullai
With no protocol governing their post-presidential lives, ex-presidents have written memoirs, served as advisors, and even returned to politics.
Departments
8
It's Your Business, by William J. Lynott
9
Healthline, by Elizabeth A. Reid, MD
52
Elks National Veterans Service Commission
54
Elks National Foundation
56
Elks Drug Awareness Program
---
Back to top