Current Issue Online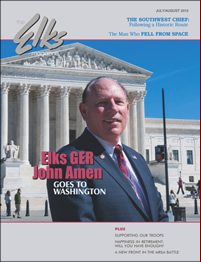 July/August 2015

Who are the Elks?
Elks are community.
No matter where you go in the country, an Elks Lodge is right around the corner. With more than 850,000 members and 2,000 Lodges nationwide, Elks are providing charitable services that help build stronger communities.
Click here to join us in service to your community!
Elks Magazine Online
Welcome! The Elks Magazine is published 10 times per year for the members of the Benevolent and Protective Order of Elks of the United States of America. If you'd like to submit fraternal news, please check out our fraternal news guidelines (Adobe PDF format).
If you're interested in writing a general interest article, here are our writers guidelines. If you're interesting in advertising in the Elks Magazine, please review our Media Kit.
To submit materials or provide a photo, please download and fill out a submission form.
Current Issue: July/August 2015
Features
10
News of the Lodges
Members show that Elks Care--Elks Share by holding Easter egg hunts for young children and awarding scholarships to high school students.
20
Elks GER John Amen Goes to Washington, by Shawn Bullard
While in Washington, DC, GER Amen met national policy makers and paid his respects to those killed at the Pentagon on 9/11.
26
The Man Who Fell from Space, by Buzz Brandt
In 1960, Joseph Kittinger jumped from almost twenty miles above the New Mexico desert and made history.
34
The Southwest Chief: Following a Historic Route, by Cathy Swormstedt
The Southwest Chief is part of a proud line of trains that have carried millions of rail travel aficionados.
Departments
6
It's Your Business, by William J. Lynott
8
Healthline, by Elizabeth A. Reid, MD
42
Elks National Veterans Service Commission
48
Elks Drug Awareness Program
52
Elks National Foundation
---
Back to top