Current Issue Online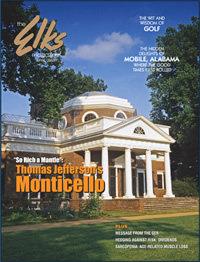 April 2015

Who are the Elks?
Elks are community.
No matter where you go in the country, an Elks Lodge is right around the corner. With more than 850,000 members and 2,000 Lodges nationwide, Elks are providing charitable services that help build stronger communities.
Click here to join us in service to your community!
Elks Magazine Online
Welcome! The Elks Magazine is published 10 times per year for the members of the Benevolent and Protective Order of Elks of the United States of America. If you'd like to submit fraternal news, please check out our fraternal news guidelines (Adobe PDF format).
If you're interested in writing a general interest article, here are our writers guidelines. If you're interesting in advertising in the Elks Magazine, please review our Media Kit.
To submit materials or provide a photo, please download and fill out a submission form.
Current Issue: April 2015
Features
30
"So Rich a Mantle":Thomas Jefferson's Monticello, by Margene Whitler Hucek
Monticello stands as a testament to Thomas Jefferson's ingenuity, staggering breadth of knowledge, and wide-ranging interests.
38
The Wit and Widsom of Golf, by Glenn Liebman
One-liners from some of the biggest names in golf exemplify the frustration and exhilaration brought on by this sport.
42
The Hidden Delights of Mobile, Alabama: Where the Good Times First Rolled, by Michael Stein
This grande dame of ports has been a pivotal part of the region and the nation.
48
Supporting Our Troops
Elks support members of the US armed forces by holding Christmas dinners and shipping care package to personnel overseas.
Departments
6
A Candidate for Grand Exalted Ruler
8
Candidates for Grand Lodge Office
12
It's Your Business, by Timothy Middleton
13
Healthline, by Elizabeth A. Reid, MD
52
Elks National Veterans Service Commission
58
Elks National Foundation
60
Elks Drug Awareness Program
---
Back to top