Current Issue Online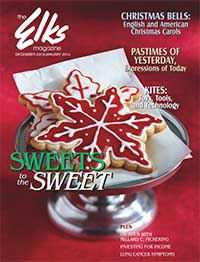 December 2013/January 2014

Who are the Elks?
Elks are community.
No matter where you go in the country, an Elks Lodge is right around the corner. With more than 850,000 members and 2,000 Lodges nationwide, Elks are providing charitable services that help build stronger communities.
Click here to join us in service to your community!
Elks Magazine Online
Welcome! The Elks Magazine is published 10 times per year for the members of the Benevolent and Protective Order of Elks of the United States of America. If you'd like to submit fraternal news, please check out our fraternal news guidelines (Adobe PDF format).
If you're interested in writing a general interest article, here are our writers guidelines.
To submit materials or provide a photo, please download and fill out a submission form.
Current Issue: Dec. 2013/Jan. 2014
Features
24
Sweets to the Sweet, by Elise Warner
A Staple of medieval feasts and modern Halloween celebrations alike, candy has never gone out of fashion.
30
Christmas Bells: English and American Christmas Carols, by Elise Warner
Christmas carols, which are probably rooted in celebratory pagan songs, have helped people celebrate Christmas for generations.
36
Kites: Toys, Tools, and Technology, by Miriam O. Seymour
Kites have been used as toys and as tools of scientific study, and they will probably continue to serve humanity far into the future.
44
Pastimes of Yesterday, Expressions of Today, by Rosemarie Ostler
Some of today's best-known expressions seem to make no literal sense, but a look at their origins in the past clarifies their true meanings.
Departments
8
It's Your Business, by William J. Lynott
9
Healthline, by Elizabeth A. Reid, MD
50
Elks National Veterans Service Commission
54
Elks National Foundation
56
Elks Drug Awareness Program
58
Annual Report of the Grand Secretary
---
Back to top