Current Issue Online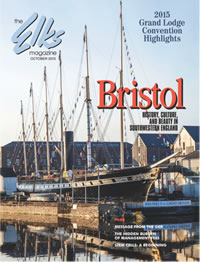 October 2015

Who are the Elks?
Elks are community.
No matter where you go in the country, an Elks Lodge is right around the corner. With more than 850,000 members and 2,000 Lodges nationwide, Elks are providing charitable services that help build stronger communities.
Click here to join us in service to your community!
Elks Magazine Online
Welcome! The Elks Magazine is published 10 times per year for the members of the Benevolent and Protective Order of Elks of the United States of America. If you'd like to submit fraternal news, please check out our fraternal news guidelines (Adobe PDF format).
If you're interested in writing a general interest article, here are our writers guidelines. If you're interesting in advertising in the Elks Magazine, please review our Media Kit.
To submit materials or provide a photo, please download and fill out a submission form.
Current Issue: Dec. 2015/Jan. 2016
Features
28
The Lights of Christmas, by Elise Warner
Since the 1880s, the holiday season has been made brighter and filled with cheer by electric lights and trees that sparkle and shine.
34
Great Super Bowl Quotes, by Glenn Liebman
Many things have been said about the Super Bowl that are funny, emotional, and even poignant.
40
Elkhart Lake, wisconsin: A Chosen Spot, by Patricia Ann McNair
Even among pretty towns in a pretty state, Elkhart Lake is something special.
46
Elks National Veterans Service Commission
Elks remember veterans by hosting lunches for disabled veterans and donating funds to help provide wounded veterans with service dogs.
Departments
8
It's Your Business, by William J. Lynott
10
Healthline, by Elizabeth A. Reid, MD
50
Elks Drug Awareness Program
54
Elks National Foundation
58
Annual Report of the Grand Secretary
60
State Association News
---
Back to top