Current Issue Online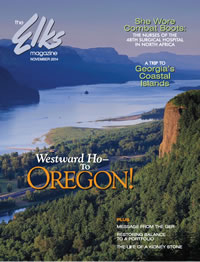 November 2014

Who are the Elks?
Elks are community.
No matter where you go in the country, an Elks Lodge is right around the corner. With more than 850,000 members and 2,000 Lodges nationwide, Elks are providing charitable services that help build stronger communities.
Click here to join us in service to your community!
Elks Magazine Online
Welcome! The Elks Magazine is published 10 times per year for the members of the Benevolent and Protective Order of Elks of the United States of America. If you'd like to submit fraternal news, please check out our fraternal news guidelines (Adobe PDF format).
If you're interested in writing a general interest article, here are our writers guidelines. If you're interesting in advertising in the Elks Magazine, please review our Media Kit.
To submit materials or provide a photo, please download and fill out a submission form.
Current Issue: November 2014
Features
24
Westward Ho--To Oregon! by Gerald C. Hammon
Nineteenth-century Oregon lured people west as lands around the Mississippi River became more crowded and life became more difficult.
30
She Wore Combat Boots: The Nurses of the 48th Surgical Hospital in North Africa, by Linda McMaken
The courageous nurses of the 48th Surgical Hospital saved lives on the front lines in North Africa.
38
A Trip to Georgia's Coastal Islands, by John Geary
The easily accessible islands of the southern Georgia coast are full of opportunities for outdoor adventures.
44
Supporting Our Troops
Elks show they care by providing meals to national guard personnel and families and shipping care packages to armed forces personnel overseas.
Departments
8
It's Your Business, by Timothy Middleton
10
Healthline, by Elizabeth A. Reid, MD
46
Elks National Veterans Service Commission
52
Elks Drug Awareness Program
54
Elks National Foundation
58
State Association News
---
Back to top