Current Issue Online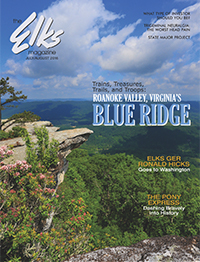 July/August 2016

Who are the Elks?
Elks are community.
No matter where you go in the country, an Elks Lodge is right around the corner. With more than 850,000 members and 2,000 Lodges nationwide, Elks are providing charitable services that help build stronger communities.
Click here to join us in service to your community!
Elks Magazine Online
Welcome! The Elks Magazine is published 10 times per year for the members of the Benevolent and Protective Order of Elks of the United States of America. If you'd like to submit fraternal news, please check out our fraternal news guidelines (Adobe PDF format).
If you're interested in writing a general interest article, here are our writers guidelines. If you're interesting in advertising in the Elks Magazine, please review our Media Kit.
To submit materials or provide a photo, please download and fill out a submission form.
Current Issue: July/August 2016
Features
24
Trains, Treasures, Trails, and Troops: Roanoke Valley, Virginia's Blue Ridge, by Patricia Ann McNair
The Roanoke Valley of Virginia's Blue Ridge Mountains is a place of peaks, waterways, charming towns, and welcoming people.
32
Elks GER Ronald Hicks Goes to Washington, by Shawn S. Bullard
In Washington, GER Hicks emphasized the Elks' strong commitment to drug abatement programs and to helping veterans.
36
The Pony Express--Dashing Bravely into History, by Nancy K. Williams
For the nineteen months that the Pony Express existed, its riders braved many dangers to deliver the mail.
48
Elks Drug Awareness Program
Elks spread their drug awareness message by honoring police officers and giving antidrug literature to children.
Departments
6
It's Your Business, by William J. Lynott
7
Healthline, by Elizabeth A Reid, MD
44
Elks National Veterans Service Commission
50
Elks National Foundation
---
Back to top