Current Issue Online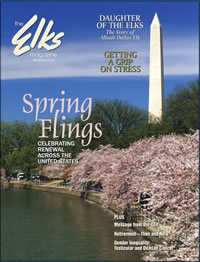 March 2015

Who are the Elks?
Elks are community.
No matter where you go in the country, an Elks Lodge is right around the corner. With more than 850,000 members and 2,000 Lodges nationwide, Elks are providing charitable services that help build stronger communities.
Click here to join us in service to your community!
Elks Magazine Online
Welcome! The Elks Magazine is published 10 times per year for the members of the Benevolent and Protective Order of Elks of the United States of America. If you'd like to submit fraternal news, please check out our fraternal news guidelines (Adobe PDF format).
If you're interested in writing a general interest article, here are our writers guidelines. If you're interesting in advertising in the Elks Magazine, please review our Media Kit.
To submit materials or provide a photo, please download and fill out a submission form.
Current Issue: March 2015
Features
30
Spring Flings: Celebrating Renewal across the United States. by Richard Bauman
All over the country, communities, large and small, celebrate the arrival of spring with themed festivals.
36
Daughter of the Elks: The Story of Alloah Dallas Elk, by David McCormick
Cared for and educated by the Dallas, Texas, Elks Lodge, an abandoned baby went on to become a musician and linguist.
40
Getting a Grip on Stress, by Victor M. Parachin
Learn how to relieve and reduce stress with some simple stress busters that really work.
56
Elks Drug Awareness Program
Elks spread their drug awareness message by giving out drug awareness pamphlets and speaking to schoolchildren about drug abuse.
Departments
8
It's Your Business, by William J. Lynott
10
Healthline, by Elizabeth A. Reid, MD
46
Elks National Veterans Service Commission
60
Elks National Foundation
---
Back to top