Who are the Elks?
Elks are community. No matter where you go in the country, an Elks Lodge is right around the corner.
Join us in service to your community!
Alum
Hoop Shoot contestants develop the skills they need to achieve success both on and off the court. Whether they become collegiate or professional athletes, excel in the classroom or volunteer in their communities, Hoop Shoot Alum go on to do great things.
From Hoop Shoot to Hollywood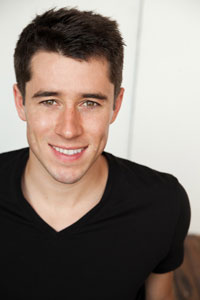 In coastal Alaska, where it is cold, dark and rainy most of the year, basketball is king. Residents pack into local gymnasiums, shedding their coats and boots to wrap up in spirit of the game. For Alaska native and Hoop Shoot alum Jesse LeBeau, the gymnasium provided a safe haven from the cold and a warm place to practice his free throws.
On the Line
LeBeau's love of the game started at a very young age. Inspired by his brother, Luke, LeBeau learned to dribble soon after he learned to walk. One of his earliest competitive experiences was through the Elks Hoop Shoot, a major annual event in his small community. An expert on the foul line, LeBeau represented Alaska at the Hoop Shoot Regional Semi-Finals twice.
"I spent a lot of time with my dad practicing for Regionals," says LeBeau. "In one month, I shot more than 10,000 free throws!"
On the Court
Even after he was too old to compete in the Hoop Shoot, LeBeau stayed involved with the Elks. He received an ENF Most Valuable Student scholarship in 2005, sponsored by Ketchikan, Alaska, Lodge No. 1429. His scholarship took him to San Diego Christian College to play basketball. There, he earned a degree in Business and Communications, which he credits to the ENF.
"My scholarship helped me gain the tools necessary to be successful in the business world," says LeBeau. "It has played a big role in shaping me into the person I am today."
On the Big Screen
After a stint of commercial fishing in Alaska, LeBeau's journey led him back to California—this time, to the bright lights of Hollywood. Never giving up on his first passion, he learned to incorporate basketball into acting. His basketball skills have led him to much success—he's starred in commercials and appeared in the 2012 Hollywood film Thunderstruck with Oklahoma City Thunder star Kevin Durant.
On the Ball
Despite his success, LeBeau has never forgotten the importance of giving back to his community—especially to youth. In all his work, he strives to be a positive role model for children, inspiring them to work hard in basketball and in life.
Currently, he runs basketball camps for children in rural Alaska and manages the program Fab4Streetball, which helps schools and organizations raise funds for their own projects.
Through motivational speaking, LeBeau also teaches kids how to develop skills he once learned in the Hoop Shoot—to work hard and believe in yourself.
"The Hoop Shoot gave me confidence in myself at an early age," he says. "It taught me that if I work hard, I can accomplish goals and do whatever I want with my life."
LeBeau's advice to future contestants: "Believe in yourself, and most of all, have fun. That's what it's all about."
Basketball for Life
Bzzzz. The final buzzer sounds as the last shot bounces off the rim and down the court. The gym erupts into a discordant mix of shouts of celebration and groans of defeat. The big game is over. But for former Hoop Shoot contestant Lisa Shepherd, the final buzzer has always meant something different—an opportunity to review her performance and establish goals for next time. And when it comes to Shepherd and basketball, there is always a next time.
Basketball played a significant role in Shepherd's youth, teaching her the importance of dedication and self-improvement. It's no surprise that she competed in the Hoop Shoot every year she was eligible from age 8 to 13.
"The Hoop Shoot taught me that you're never too young to start setting goals," says Shepherd.
For Shepherd, goal-setting paid off. Sponsored by Richmond, Ind., Lodge No. 649, Shepherd advanced to the Hoop Shoot National Finals to win the Girls 12-13 Division Championship in 1993.
Miss Basketball
In high school, Shepherd's hard work paid off again when she was named Indiana's Miss Basketball in 1997, and then offered a full-ride basketball scholarship to Penn State University.
While at Penn State, Shepherd led the Lady Lions in three-point shots and helped her team reach the Final Four during her junior year. Upon graduating, Shepherd was the top-scoring three-point shooter in the university's history.
Hoop Dreams
Shepherd's work with basketball didn't end when she graduated college. In 2004 she founded Dream Makers, a small business focused on teaching youth the same fundamental skills and dedication she learned through basketball.
Shepherd now works full-time providing lessons and running basketball camps with Dream Makers.
Like the Elks Hoop Shoot, Shepherd seeks to make basketball a positive experience for all youth.
"Practice, practice, practice," Shepherd advises this year's contestants. "Improvement in basketball, as in all areas of life, takes a lot of time, effort and dedication."
From Springfield to Stanford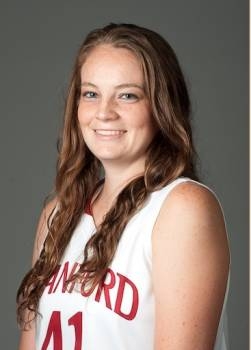 The year was 2005. The place—Western New England University in Springfield, Mass. Eleven-year-old Bonnie Samuelson toed the free-throw line in front of a crowd of silent spectators. It was the Elks Hoop Shoot National Finals and it was Bonnie's turn to compete. Sinking free throw after free throw, she out performed her competition with a near perfect score of 24 out of 25. Bonnie, sponsored by Fullerton, Calif., Lodge No. 1993, left Springfield a Hoop Shoot national champion.
Fast forward seven years. Samuelson, now 19, is still achieving success on the basketball court. Only now, Samuelson wows crowds on a different college campus—Stanford University, where she plays forward for the Women's Basketball Team.
The Path to Victory
Samuelson admits that the road to success demands hard work and dedication—skills she says the Hoop Shoot helped strengthen.
"The Hoop Shoot taught me to be dedicated and patient," explains Samuelson. "I learned that if you work at something enough, success will come."
For Samuelson, success did come. She entered the Hoop Shoot for the first time when she was just 8-years-old, and competed each year after, until age 14. She advanced to the National Finals three times, and claimed two Hoop Shoot National Championships.
In high school, Samuelson became the leading scorer in her county and served as team captain for two years. Her leadership and commitment earned her a college scholarship and a place on the Stanford Women's Basketball Team.
Playing Smart
Samuelson is happy to be able to play basketball in college and is thankful to further her academic career as well. Her dedication on the court extends to her studies of Human Biology and Communications.
"I chose to attend Stanford for many reasons," says Samuelson. "More than anything, I knew that I would receive an amazing education."
As youth around the nation prepare to compete in this year's Hoop Shoot, Samuelson hopes they will apply these same principles, too. She offers this advice to contestants:
"Stick with it. If you miss a shot, look forward and focus on the next."
Return to Finals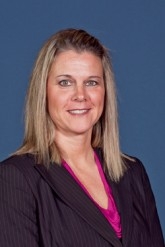 Victory came down to a single shot.
Though it's been 30 years since Laura Lee Moore was a Hoop Shoot champion, she remembers the experience like it was yesterday. Moore was one of six finalists to win a national title in 1980, after becoming the top shooter nationwide for her age group. This April, Moore will return to the finals—this time as the event's guest speaker.
Lessons Learned
As Moore thinks back on her time as a Hoop Shoot participant, she remembers the camaraderie amongst contestants the most.
"We were all competing against one another but, at the end of the day, we were friends," says Moore, recounting time spent playing with other contestants in hotel lobbies. "I made long-lasting friends."
Friendship isn't the only thing Moore took from her experience with the Elks. To her, the Hoop Shoot was much more than a free throw contest—it taught her valuable life lessons that she still uses today.
"The Hoop Shoot taught me the importance of discipline, practice and sacrifice," says Moore. "All of which you need to execute a plan and succeed."
Life after Hoop Shoot
Succeed she did. After becoming an All-American athlete in high school, Moore attended the University of Washington in Seattle on a full-ride basketball scholarship. Now, she and her family reside in Oregon where she owns and operates a successful recruiting firm.
Today, Moore encourages young athletes to participate in the Hoop Shoot because of its lasting impact on contestants.
"Hoop Shoot is a great way to learn to deliver under pressure, build concentration, and develop social skills," says Moore. "It's also an event for the whole family, which is something that I enjoyed very much."
As she prepares to travel to Springfield, Mass., her advice to the finalists is simple:
"Make friends, be present, and enjoy this once in lifetime experience."
2012 National Finalist PowerPoint
Click here
to view a slideshow featuring the 2012 Hoop Shoot finalists.
---
Back to top