Support the Elks Hoop Shoot



Who are the Elks?
Elks are community. No matter where you go in the country, an Elks Lodge is right around the corner.
Join us in service to your community!
Hoop Shoot Hero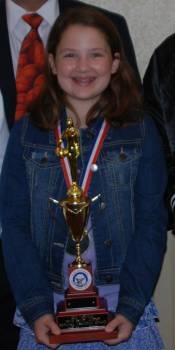 As the Hoop Shoot finalists toe the free throw line, many thoughts fly through their heads. "Did I practice enough?" "Will I be on my game?" For 8-year-old Lauren Thompson, one thought stands out. "This shot is for my friend."
Lauren, sponsored by Dothan, Ala., Lodge No. 1887, is shooting for a cause—to help schoolmate, Trinitie, pay for cancer treatment.
Taking the Pledge
After Trinitie, a fifth grader at Lauren's school, was diagnosed with a brain tumor, Lauren knew she had to help.
"I just wanted to do something," says Lauren.
It was then that she and her family came up with the perfect plan—to use Lauren's free throw sinking skills to raise money for Trinitie's medical expenses. Members of their church and community pledged dollars for every basket Lauren could sink during her next competition. Talk about motivation!
A few weeks later, Lauren headed to her state Hoop Shoot in Birmingham, Ala. This time, she wasn't just shooting for a win— she was shooting for Trinitie.
Shooting for a Cause
Lauren sank 23 of 25 free throws at state and advanced to regionals. In doing so, she raised more than $5,000 for Trinitie's family.
"It felt good to know that I was doing something good for someone else," comments Lauren. "I couldn't believe we raised that much money!"
Today, Lauren has raised a total of $7,320 through Hoop Shoot pledges, all of which will aid Trinitie's family in paying for her treatment.
Lauren says she's learned a lot from her Hoop Shoot experience. Although she is excited to ride in a plane to finals, her favorite part of this experience has been helping her friend.
Through the Elks National Hoop Shoot Free Throw Program, the Elks National Foundation teaches kids the value of hard work and good sportsmanship. In 2012-13, the ENF allocated $748,055 to fund this program. For more information on the Hoop Shoot, visit www.elks.org/hoopshoot.
---
Back to top