Who are the Elks?
Elks are community. No matter where you go in the country, an Elks Lodge is right around the corner.
Join us in service to your community!
Chicago-style Hoop Shoot
Couldn't make it to Chicago? Watch the weekends highlights video above!
On the long road to Chicago, the 2017 Hoop Shoot National Finalists fought off challenges at every stop on the free throw line. Fueled by dedication, grit, and the support of family and friends, they kept winning in every round of the tournament. Seventy-Two National Finalists and their families completed their journey, and from April 20-23, they were served up a National Finals weekend—Chicago style.
The 2017 Hoop Shoot National Finals was an unforgettable event. For the second year, the National Finals were held in Chicago, home of the Elks. While the main purpose of the weekend was the contest, the Finalists didn't spend all of their time shooting hoops.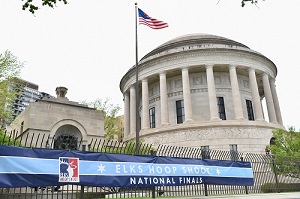 Finalists and their families connected with one another in the Elks Kids' Zone by playing games, writing thank-you letters to veterans, and coloring the new Drug Awareness Program coloring books. Families had the opportunity to get to know one another, and to get to know the Elks too. Elk volunteers were stationed all across Chicago, including on board the Hoop Shoot trolleys.
Finalists, families, and fans could hop on board and hitch a ride to some of Chicago's classic sites, including the Elks Veterans Memorial. Pre-contest jitters were put to ease on Friday evening as Hoop Shoot guests enjoyed a fun-filled night at the Chicago Sports Museum.
The hustle and bustle of city-life was nowhere to be found inside McGrath Arena at DePaul University on Saturday, April 22. The Hoop Shoot National Finals had started, and with that came the silence of the contest, broken only by the dribble of a basketball, the swish of the net, and the rare sound of the ball clanking off the rim.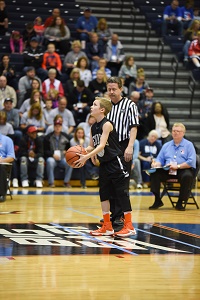 The 2017 National Finals lived up to the hype. There were seven tie-breaking shoot-offs throughout the contests. One shoot-off in particular, tested the resilience of National Finalist Kale Misegades. In a true display of grit, Kale shot with a full leg brace to support his injured knee. Prior to his arrival at the National Finals, Kale shattered his knee cap while playing basketball. What would have been a season ending injury for most, was not enough to stop Kale.
"Kale's got a broken knee cap, and he can't bend his right leg," said Bart Powell in amazement when he and Elks National Foundation Director Jim O'Kelley were covering the contest on Facebook Live. Bart is the son of Getty Powell, the program's first National Director. He has attended every National Finals. "You're supposed to bend your knees when you are shooting. It's just unbelievable, him hitting 24 out of 25."
The 8-9 Boys contest was tough. After going 24/25 in regulation, Kale went head to head for second place against Kaden Cowgill, nephew of the legend CJ Cowgill—a four-time National Champion—and younger brother of Camden, the 2016 Getty Powell Award Winner. Kale shot valiantly and went home with a third-place trophy. If a leg brace couldn't stop him from competing, nothing could stop him from climbing onto the podium and receiving his medal.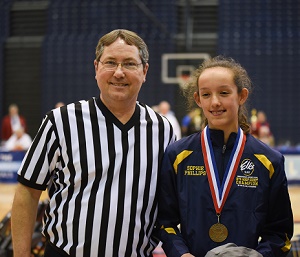 There was plenty of action on the other side of the gym as well. After going 24/25, 12-13-year-old Sophie Phillips found herself in a shoot-off for first place. Unshaken, she went perfect in the shoot-off and earned her place in the Hall of Fame as a Frank Hise National Champion. Her hard work also earned her a trip to Reno as the Getty Powell Awards winner for the highest overall girls score.
The cherry on top of an extraordinary weekend was the Awards Banquet. Finalists listened to keynote speaker Victoria Arlen tell her incredible story of overcoming odds, and received their awards. The National Finals weekend was action-packed. Friendships were made, fun was had, and buckets were sank. Congratulations to the 2017 Hoop Shoot National Finalists.
Click here to see pictures from the weekend in Chicago.
The 2017 Frank Hise National Champions:
Ages 8-9 boys
Colton Conkle | Coshocton, OH, Lodge No. 376 | 25/25
Ages 8-9 girls
Mickellyn Walker | Dickinson, ND, Lodge No. 1137 | 23/25
Ages 10-11 boys
Jacobi Lafferty | Burlington, VT, Lodge No. 916 | 24/25 (20/20)
Ages 10-11 girls
A.J. McCandlis | Highland, AR, Lodge No. 2539 | 23/25
Ages 12-13 boys
*Donavan Seamster | Shreveport, LA, Lodge No. 122 | 25/25
Ages 12-13 girls
*Sophie Phillips | Greenwich, NY, Lodge No. 2223 | 24/25 (5/5)
* Denotes Getty Powell Award winner as highest-scoring girl and boy overall.
---
Back to top