Lodge Facilities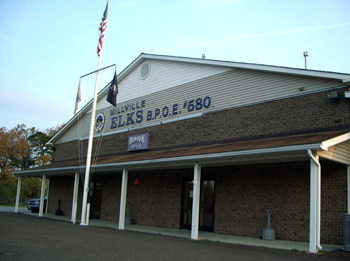 Bingo
"DUE TO COVID-19 BINGO HAS BEEN SUSPENDED UNTIL FURTHER NOTICE"
Bingo is held in our handicapped accessible, climate controlled, smoke free Lodge Hall each Thursday. Calling starts promptly at 7:00pm and ends at about 10:00pm. Arrive early and enjoy our kitchen's weekly specials. Sandwiches, fries, beverages, pies and candy are available each week. $2000 total pay outs. A $5.00 admission includes your first lap book. $1,000 cash prize for the last game each night! Players must be at least 18 years of age. No children are permitted in the hall during bingo.
Antler Lounge
Our Antler Lounge is a smoke-free facility with 50 high-back stools, table seating, pull tabs, shuffleboard, darts, billiards, 5 flat panel TVs, stereo music, free Wi-Fi wireless internet access and more! Lounge hours are 11:00am to 11:00pm Monday through Saturday and 1:00 pm to 7:00pm on Sunday. There's lots of room to socialize and enjoy the company of other Elks and their guests!
Shuffleboard
Enjoy a complementary game of shuffleboard on our super fast 22 foot table in our Antler Lounge. Better yet, sign up for our Shuffleboard League! League games are held at 7:00pm every Friday night beginning in September for 14 weeks and then again in January for 14 weeks. Two person teams play horse collar. Sign ups are always available in the Antler Lounge.
Pool Table
Enjoy a complementary game of pool in our Antler Lounge.We often have impromptu 8 ball tournaments. (Recreational only)
Dart Board
Enjoy a complementary game of darts on one of the 3 dart boards in our Antler Lounge. Better yet, sign up for our Dart League! League games are held Saturday afternoon at 2:00pm beginning in January.
RV Hookups
2 RV sites with electric (110v only) and water are available. Call ahead for availability. (856) 825-9854. No Dumping.
---
Back to top