1868 marked the inception of the Benevolent and Protective Order of Elks. The organization quickly began to charter lodges across the country. On July 12, 1900 eighty men who represented banking, business, profession and laboring people organized the 580th Lodge in Millville, NJ. Today, we find the lodge an important asset to our community, an organization comprised of over 800 men and women with a common mission: To inculcate the principles of Charity, Justice, Brotherly Love and Fidelity; to recognize a belief in God; to promote the welfare and enhance the happiness of its Members; to quicken the spirit of American patriotism; to cultivate good fellowship; to perpetuate itself as a fraternal organization, and to provide for its government. The Benevolent and Protective Order of Elks of the United States of America will serve the people and communities through benevolent programs, demonstrating that Elks Care and Elks Share. The original meeting hall of the lodge comprised the second and third floors of the Giuffra Building on 112 North High Street. The second floor was equipped with recreational facilities while the third floor was used for meetings. Weeks, when meetings were not scheduled, the lodge sponsored many successful dances in the meeting room.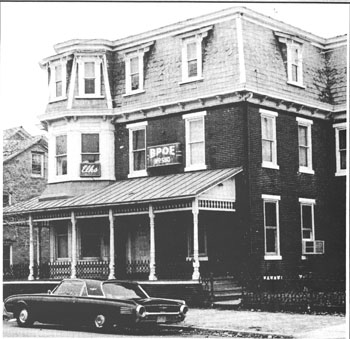 In 1909 the lodge members voted to purchase the former Councilor Building on 22 E. Vine Street. The building was renovated and became home for Lodge 580. In 1949, the lodge erected an addition at the rear of the home and installed modern equipment for social activities. It marked one of the largest advancements since the purchase of the home. In 1971 the Millville Elks moved their Lodge to the present location on 1815 E Broad St. Three years after we built our new home we had a mortgage burning ceremony. The Millville Lodge became one of the community leaders in all-civic affairs. From 1920 until his death in 1949 the late Eugene Gallaher headed our Lodge's Crippled Kiddies Committee. It was his planning and hard work, with the full cooperation of professional men of this city, St. Francis Hospital, Trenton, and Philadelphia hospitals that made this committee one of importance to the community. This tradition is still carried on today as Lodge #580 continues to provide for physically challenged children. Names of individuals aided by the Lodge, and the financial assistance granted, has never been revealed by the Order but the Community realizes that the Elks have been a major benefactor to Millville and surrounding communities.
Throughout the twenty century, the Lodge has sponsored many events, including Horse Shows, Family Pictures, Baseballs Games, Wrestling Shows, children's outings in Wildwood and many other activities to raise the necessary funds to benefit the community. Pictured here is the Elks Jazz Band performing at a dance in the 1920's. WAR SERVICE WORK During World War II, Millville Lodge of Elks launched its own committee for War Service Work. The Lodge was open to service men and enlisted officers from the Millville Army Air Base and the committee saw that visiting servicemen enjoyed themselves during their stay in Millville. A special Rehabilitation Fund was set aside by the Lodge to aid soldiers in rehabilitating themselves upon being discharged. Loans were made to applicants without interest. As a monthly service, the committee saw that care packages were sent to members entering the armed forces and when their addresses were not known, a sum was placed in a separate fund for each serviceman. The Lodge contributed freely, both in time and finances, to the Selected Community Committee Parties in honor of those being called into service. Other war activities included monthly contributions to the State Association and Grand Lodge towards war work. ORGANIZATION OF THE VINELAND LODGE In 1922 Millville Lodge was asked to organize the Vineland Lodge of Elks. A total of 42 members at the Lodge, who resided in Vineland, were transferred at a dinner meeting held in Vineland. Millville Officers organized this new South Jersey Elks Lodge. Stacey N. Wean was Exalted Ruler in 1922 and with the assistance of other officers and members conducted the organization service and presented the charter to the Vineland Lodge. FEMALE ELKS In 1935, under the lead of Dr. Muriel Ramsey, 13 charter members formed Millville Lady Elks. The Lady Elks thrived for decades, actively raising funds for community service. They eventually merged with the main organization. In April of 1997, Judi May was indoctrinated as the first women member of Millville B.P.O.E. Lodge 580. Nine years later, Beverly McFadden became the first female Exalted Ruler. ELKS QUARTETTE The Millville Elks had one of the finest quartettes in the State. It was organized March 6, 1946 with the four men giving freely of their services to the Lodge whenever called upon. The quartette had been in demand throughout Cumberland County and entertained at some of the largest gatherings and top events in South Jersey. The men, by mutual consent, restricted their singing engagements to twenty-five per year. Members were: Earl Breslin, first tenor; Russell Pettit, second tenor; Russell Hufsey; baritone, and Sheppard Hogan, bass. SPONSORED SCHOLARSHIPS For several decades, the Millville Lodge has sponsored the scholarship of the Grand Lodge National Foundation. The pupils of Millville High School have been offered the privilege of entering the National competition for the worthwhile scholarships. We proudly announced that several students from New Jersey have won scholarships from the National Foundation. OTHER ACTIVITIES Since the late 1940s, the Millville Lodge has sponsored Sport Frolic Night. The purpose of this affair is to gather together sports enthusiasts, coaches and officials. This event has been annually hosted by the lodge for the past 60 years. The members have participated in shuffleboard and dart tournaments both in the city league and inter-club leagues. LODGE HONORS Members of the Millville Lodge have been chosen to serve as State and Grand Lodge Officers. Bloomfield Phrampus, Past Exalted Ruler has served as District Deputy Grand Exalted Ruler, and as Vice President, New Jersey South. In addition, he served on the State Paraplegic Committee and the State Crippled Kiddies Committee. Robert J. Gillespie, Dr. served a term as District Deputy Grand Exalted Ruler. Our Lodge fairs well in competitions with other lodges. In the 2007 Ritual Contest, The New Jersey State Elks Association presented Millville Lodge #580 with: Best Exalted Ruler - Bill Meischke Best Esquire Chair - Carl Haserick All-Star Ritual Team - Carl Haserick 2nd Place - Best Lodge Overall The New Jersey State Elks Association also presented Millville Lodge #580 with the following awards at the 2007 New Jersey State Elks Convention in Wildwood, NJ. 1st Place - Best Float for a lodge with 501 members and above. 3rd Place - Best Overall for a lodge with 501 members and above. 5th Place - Best Lodge Marching for a lodge with 501 members and above. The South District of New Jersey State Elks Association presented Millville Lodge #580 with the following awards at the 2007 New Jersey State Elks Convention in Wildwood, NJ. 1st Place - Best Lodge Marching 2nd Place - Best Esquire 3rd Place - Best Overall 3rd Place - Best Appearance 3rd Place - Best Float. Since then continue to win awards at our New Jersey State Convention. LODGE OF TODAY In the past 122 years 107 Elks have served the role of our Exalted Ruler. On March 6th of 2022, PER Victoria Watson was elected as New Jersey State President for the 2022-2023 year. For over a century, the Millville Elks Lodge continues to be a strong force in the community. Our philanthropic nature has constantly helped to bolster our community. We regularly donate time and money to worthy local causes. Each year will sponsor events to honor our veterans, guide our youth and help the less fortunate. Each day we strive to live our mantra, Elks Care – Elks Share.
Exalted Rulers 1900-1902 Joseph D. Troth; 1902-1903 Martin Lane; 1903-1904 J. E. Nixon; 1904-1905 D. H. Masters; 1905-1906 Claude B. Smith; 1906-1907 Albert M. Pitcher; 1907-1908 George A. Peacock; 1908-1909 Ralph Barber, Jr.; 1909-1910 Claude Reeves; 1910-1911 Clarence W. Sockwell; 1911-1913 Albert Davis; 1913-1914 Joseph D. Needham; 1914-1915 Martin V. Chapman; 1915-1916 Ralph R. Charlesworth, Jr.; 1916-1917 Thomas S. Garton; 1917-1918 Robert J. Gillespie, Sr.; 1918-1919 Guy G. Fisher; 1919-1920 William F. Kell; 1920-1921 Wilbert Sheldon; 1921-1922 Harry C. Kates; 1922-1923 Stacy N. Ewan; 1923-1924 William Charlesworth; 1924-1925 Jesse DeBois; 1925-1927 Leroy Wood; 1927-1928 Harry E. Lloyd;1928-1930 Jack Thornborrow; 1930-1931 John McFarland; 1931-1932 Cyril McCorristin; 1932-1934 Emil Enzman; 1934-1935 Charles Lynn; 1935-1936 Fred Klawitter; 1936-1937 Harold Dunham; 1937-1938 August H. Bahr; 1938-1939 Alex Muehler; 1939-1940 Basil King; 1940-1941 William Schmickle; 1941-1942 Bloomfield Phrampus; 1942-1943 Firman Robinson; 1943-1944 Edward G. Bevan; 1944-1945 Glenn Somes; 1945-1946 Harry Beebe, Jr.; 1946-1947 William S. Gravel; 1947-1948 Harlan Hogan; 1948-1949 Walter Konschak; 1949-1950 Channon McCaw; 1950-1951 Earl Breslin; 1951-1952 C. Dean Ewen; 1952-1953 Carmen G. Jones; 1953-1954 Joseph Yeager; 1954-1955 Alex Muehler; 1955-1956 Ambrose Clark; 1956-1957 Raymond Clark; 1957-1958 C. Dean Ewen; 1958-1959 Joseph Loteck Sr.; 1959-1960 John T. Husokowski; 1960-1961 William L. Hogan; 1961-1962 John A. Myers; 1962-1963 Charles B. Fisher; 1963-1964 John A. Myers; 1964-1965 John Cheeseman; 1965-1966 Asher Millard Sr.; 1966-1967 Jesse H. Smith Sr.; 1967-1968 J. Malcolm Beebe; 1968-1969 Thomas Beebe; 1969-1970 Joseph J. Lynch; 1970-1971 John T. Eller; 1971-1972 Robert Keen; 1972-1973 J. Malcolm Beebe; 1973-1974 Paul Quinn; 1974-1975 Donald R. Soltys; 1975-1976 Michael Quinn; 1976-1977 Donald R. Soltys; 1977-1978 John T. Eller; 1978-1980 Nicholas Hinds; 1980-1981 Franke H. Lord; 1981-1982 James McDonough; 1982-1983 John T. Eller; 1983-1984 Charles Eller; 1984 -1985 Leo Ferus, Jr.; 1985-1986 Wayne Sergiacomi; 1986-1987 Gustav Hughes; 1987-1988 Malcolm Beebe; 1988-1989 Leo J. Ferus, Jr.; 1989-1990 Wayne Sergiacomi; 1990-1991 Melvin Marshall; 1991-1992 George Carty; 1992-1993 Bob Hayes; 1993-1994 Marvin White; 1994-1995 David Parkhill; 1995-1996 William Meischke; 1996-1997 David S. Carman;1997-1998 Gary Cheeseman; 1998-1999 George Carty; 1999-2000 David Parkhill; 2000-2001 Byron J. White; 2001-2002 Dane Bingham; 2002-2003 Ralph Trout; 2003-2004 Bill Riley; 2004-2005 Ralph Trout; 2005-2006 Bob Moore; 2006-2007 Beverly McFadden; 2007-2008 Bill Meischke; 2008-2009 Bill Meischke; 2009-2010 Vicki Watson; 2010-2011 Kevin Smith; 2011-2012 Kurt Haserick 2012-2013 Beverly McFadden; 2013-2014 Ralph Rigg - Henry Taylor; 2014-2015 George McMahon; 2015-2016 George McMahon; 2016-2017 Keith Rafine; 2017-2019 Arleen Hickman; 2018-2019 Arleen Hickman; 2019-2020 Glendon Doran; 2020-2021 Kathy Banes; 2021-2022 Vicki Watson; 2022-2023 Kathy Banes; 2023-2024 Kevin Smith
Lady Elks Charter Members Dr. Ramsey, Bertha Lober, Elizabeth Enzman, Helen Garton, Betty Baumohl, Anna Lehman, Sadie Peterson, Mary Corson, Linnie Muehler, Henrietta Errickson, Carrie Webster, Etta Smith and Winnie Nessen. First officers of the Lady Elks were: Dr. Muriel Ramsey, president; Elizabeth Enzman, Leading Lady; Linnie Muehler, Loyal Lady, Winnie Nessen, Lecturing Lady; Mary Corson, Tiler, Bertha Lober, Recording Secretary; Betty Baumohl, Corresponding Secretary; Anna Lehman, Treasurer and Carrie Webster, Sadie Peterson and Helen Garton, Trustees.