Lodge Facilities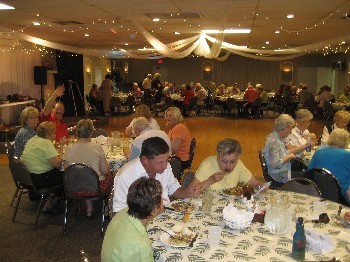 Dining Room
The Dining Room is used for formal events (weddings, dinners, business meetings) and informal events (wedding & baby showers, family & school reunions, birthday, holiday & retirement parties). Capacity is up to 200 people. There is a full kitchen attached and the Lodge Caterer and Kitchen & Bar staff are available if desired. The Dining Room is available for rental by calling the Lodge Manager.
Bingo
For Bingo details, check the calendar for each of our bingo venues.
Bingo, for members and guests, is held each Thursday evening with a variety of games. Food is also sold.
Bar Bingo for members and their guests.
Meat Bingo for members and their guests. Prizes are beef, chicken or pork - moo moo, cluck cluck or oink oink is called instead of "bingo".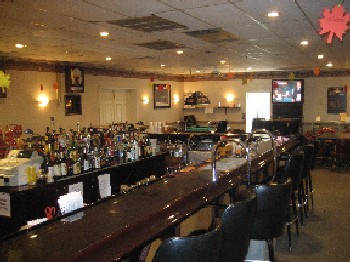 Lounge
Our Lounge can easily accommodiate 75 people.
Tea Room
Our Tea Room is available for smaller functions or meetings of 50-75 people. It is often referred to as "The Party Room".
BBQ
We have a large, enclosed BBQ cooking area. It supports many member events and functions.
Lodge Room
Our Lodge Room can accommodiate approximately 75 people. It has been used for rental.
Covered Gazebo
We have a covered patio off the Lounge area. It is available with Television and other services. There is also a large grassy yard for weddings and other adult activities.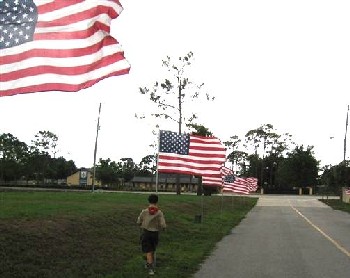 RV Parking Area
The lodge does not offer tent camping, but does provide paved parking for RVs and trailers. We have two back-in areas with access to water and power (30 amp only), although there is ample room if you're dry camping. Due to the location of the water and power hookups, we suggest you bring extra water hoses and appropriately rated RV power extension cables. Fresh water is also available at other locations on the property.
Unless you're attending one of our scheduled camporees, please do not park on the grass in front of the lodge or block regular lodge parking. The lodge has no dump station; gray and black water must be taken to another facility for disposal.
To help us keep our rates down, please turn off your air conditioner if leaving the property for any length of time. As a welcome to all traveling Elks, your first beverage of choice is on us! Suggested donations are $15.00 if you're hooking up to the water and power, or $10.00 if dry camping. The lodge has WiFi.
---
Back to top