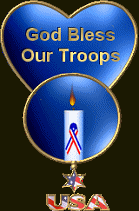 You served us - - - let us serve you! You have heard of 'a day in the life of . . . '
One day you are visiting with your friends and neighbors. You think of a veteran - a relative, a friend, a partner in arms - and you say . . . I would like to do something for those who are in my mind. But you don't know who to contact . . . How about these people who would be happy to help you.
Ron Goluba PER, VAVS Rep. V.A. Healtcare Centers - Orlando & Lake Nona Leave message with Secretary [Contact Us].
TAPS We in the United States have all heard the haunting song, 'Taps...' It's the song that gives us the lump in our throats and usually tears in our eyes. But, do you know the story behind the song? If not, I think you will be interested to find out about its humble beginnings.
Reportedly, it all began in 1862 during the Civil War, when Union Army Captain Robert Elli was with his men near Harrison's Landing in Virginia. The Confederate Army was on the other side of the narrow strip of land. During the night, Captain Elli heard the moans of a soldier who lay severely wounded on the field. Not knowing if it was a Union or Confederate soldier, the Captain decided to risk his life and bring the stricken man back for medical attention.
Crawling on his stomach through the gunfire, the Captain reached the stricken soldier and began pulling him toward his encampment.. When the Captain finally reached his own lines, he discovered it was actually a Confederate soldier, but the soldier was dead. The Captain lit a lantern and suddenly caught his breath and went numb with shock. In the dim light, he saw the face of the soldier. It was his own son. The boy had been studying music in the South when the war broke out.. Without telling his father, the boy enlisted in the Confederate Army. The following morning, heartbroken, the father asked permission of his superiors to give his son a full military burial, despite his enemy status. His request was only partially granted.
The Captain had asked if he could have a group of Army band members play a funeral dirge for his son at the funeral. The request was turned down since the soldier was a Confederate. But, out of respect for the father, they did say they could give him only one musician. The Captain chose a bugler. He asked the bugler to play a series of musical notes he had found on a piece of paper in the pocket of the dead youth's uniform. This wish was granted. The haunting melody, we now know as 'Taps' used at military funerals was born. The words are:
Day is done. Gone the sun. From the lakes From the hills. From the sky. All is well. Safely rest. God is nigh.
Fading light. Dims the sight. And a star. Gems the sky. Gleaming bright. From afar. Drawing nigh. Falls the night. Thanks and praise. For our days. Neath the sun Neath the stars. Neath the sky As we go. This we know. God is nigh --
Contact your local VA Hospital/Nursing Home/Domiciliary and ask what they need! You would be surprised that you can fill that need. Have you ever seen a person smile because you offered them a package of crackers or a donut or helped them play bingo or brought them a BBQ meal or stood in front of your peers singing karaoke or asked them about a special skill? I did.
PDDGER Dick Bardsley said "I visited the Bay Pines VAMC and a gentle . . . man ( Paul Berle) who was in a wheel chair, told me he was blind. Holding a 10" harmonica, he asked if I wanted him to play a little harmonica music of God Bless America. [drum roll please] When I said "sure". He switched the 10" harmonica for a 2" version and played to the audience. Great!!!"
===========================================================
Homeless veterans in need of our help more than ever By C. Valentine Bates former Grand Lodge Veterans Service Committee Secretary/Treasurer

As we begin the New Year, it is appropriate that we dedicate ourselves to our Elk commitment: "So long as there are veterans, the Benevolent and Protective Order of Elks will never forget them." One group of veterans who need our help more than ever before in our history, is our homeless veterans. Studies show that fully one fourth of all the homeless people in America are veterans. The VA has compiled interesting statistics regarding our homeless veterans: * All but 4 percent are male. The vast majority are single, and most come from poor, disadvantaged communities; * 45 percent suffer from mental illness of some sort and half have substance abuse problems; * Although America's homeless veterans have served in all wars and military actions since World War II, 47 percent served during the Vietnam era. More than 67 percent served our country for at least three years and more than one third served in a war zone. * Estimates of homeless veterans total nearly 200,000 on any given night and nearly 400,000 experience homelessness over the course of a year, according to the U.S. Department of Veterans Affairs. Unfortunately, the VA can only reach about 25 percent of those homeless veterans who need services. This leaves a void, which is currently being filled by local government agencies and service organizations in our communities. Rest assured that we, as the Benevolent and Protective Order of Elks, are doing our part to fill the void. Our VAVS representatives and their teams of volunteers are working tirelessly to bring needed assistance to our homeless veterans. If you serve in any capacity to help our homeless veterans, the Elks National Veterans Service Commission offers you our heartfelt thanks. If you don't serve, would you consider volunteering at your lodge to help homeless veterans in your community?
===========================================================
Do you see something you liked? Send him a message via the Guest Book button on the left. ===========================================================
I watched the flag pass by one day, It fluttered in the breeze. A young Marine saluted it, And then he stood at ease.. I looked at him in uniform So young, so tall, so proud, With hair cut square and eyes alert He'd stand out in any crowd. I thought how many men like him Had fallen through the years. How many died on foreign soil How many mothers' tears? How many pilots' planes shot down? How many died at sea? How many foxholes were soldiers' graves? No, freedom isn't free. I heard the sound of Taps one night, When everything was still, I listened to the bugler play And felt a sudden chill. I wondered just how many times That Taps had meant "Amen," When a flag had draped a coffin. Of a brother or a friend. I thought of all the children, Of the mothers and the wives, Of fathers, sons and husbands With interrupted lives. I thought about a graveyard At the bottom of the sea Of unmarked graves in Arlington. No, freedom isn't free. Enjoy Your Freedom & God Bless Our Troops Show Your Support Send This Page Along Today Please stop for a moment and say a prayer for our servicemen. Of all the gifts you could give a US Soldier, Prayer is the very best one.
===========================================================
COMFORT CARE KITS: STILL ANOTHER WAY TO SHOW OUR COMMITMENT TO VETERANS - courtesy Elks National Veterans Service Commission News: Our long-standing pledge - that "So long as there are Veterans, the Benevolent and Protective Order of Elks will never forget them" - has taken on greater meaning since the addition of our program to provide Comfort Care Kits for Veterans in Veterans hospitals and homes, those we have adopted and those all-too-many homeless Veterans. The program offers something else that we, in each of our Lodges across this great free country, can do for our Veterans. The program can be relatively inexpensive, but yet continue to show that Elks do care. To enhance the level of comfort for our nation's hospitalized and homeless veterans, the Elks National Veterans Service Commission teamed with Federated Wholesale Inc. in 1997 to put together Comfort Care Kits. The plastic bag displays the Elks logo in addition to space for the Veteran's name. The bags contain various hygiene products. Several type of kits are available. The program has gained traction in recent years. In 2003, 35,000 kits valued at $75,000 were distributed, compared to 49,000 kits worth $110,000 in 2004 and 55,000 kits worth $140,000 in 2005. These kits have proven to be an integral part of our Adopt-A-Veterans Program when they are given at the same time the Adopt-A-Veterans Certificate is presented. The kits can also be presented to Veterans when they enter the hospital or during their confinement. They can also be given to homeless Veterans. Along with the work of our volunteers, these kits give the Elks greater exposure and recognition for the work we perform with and for our nation's Veterans. Questions regarding the Comfort Care Kits Program or requests for a catalog should be directed to the Chicago office. You may also contact: Federated Wholesale Inc. 6095-D Northbelt Drive NW Norcross, GA 30071 Telephone 1-800-346-0859 Fax 1-770-458-2633 The program illustrates the importance of veterans, further evidence that Elks will never forget them. It is because of our Veterans that we enjoy the freedoms we have today. ­- Dwayne E. Rumney, PGER, Chairman Elks National Veterans Service Commission
===========================================================
VA Health-Care System Is 'A Model,' VA Secretary Says 03/28/2006 When Hurricane Katrina forced the relocation from New Orleans to Houston of hundreds of Veterans Affairs hospital patients, electronic medical records enabled doctors and nurses to treat the sick and injured without skipping a beat. "We were able in every case, after we got them resettled into another hospital, to dial up their medical record," Jim Nicholson, the secretary of Veterans Affairs, said yesterday. In a "state of the VA" speech at the National Press Club, Nicholson cited electronic health records as one reason the VA health-care system is "a model for our nation" and said his department, with 234,000 employees, is "truly one of America's good-news stories." The VA's 154 hospitals and more than 900 clinics will treat more than 5.3 million veterans this year, he said. Its health-care budget has risen 69 percent in the past five years. Under President Bush's proposed 2007 budget, the department would get one of the biggest increases in discretionary spending for any federal agency: a boost of $2.6 billion, to $35.7 billion. Not all the news is good. One of the department's missions is to help ease veterans' transition to civilian life. Yet the unemployment rate of veterans ages 20 to 24 is 16 percent, more than three times the national rate. "To me, they're perfect for prospective employers," Nicholson said. "They made a commitment. . . .They've been honorably discharged and they deserve a job." About 1 in 5 veterans has diabetes, compared with about 1 in 14 Americans in general. Nicholson said the VA now talks to patients about their diet and the disease even if they come in for other ailments. More veterans, especially those returning from Iraq and Afghanistan, are having post-traumatic stress disorder diagnosed, prompting the department to ensure that all its 154 major medical centers have an expert in treating PTSD. Then there are the old complaints that the VA is too slow to process benefits claims. "We're trying to compress the time it takes to get a decision so a veteran doesn't have to wait so long," the secretary said. "There are things that we can and we need to do better."
===========================================================
A Message from the Elks National Veterans Service Commission Veteran Volunteer of the Year ---------------------------------------------------------- A DIFFERENT CHRISTMAS POEM The embers glowed softly, and in their dim light, I gazed round the room and I cherished the sight. My wife was asleep, her head on my chest, My daughter beside me, angelic in rest. Outside the snow fell, a blanket of white, Transforming the yard to a winter delight. The sparkling lights in the tree I believe, Completed the magic that was Christmas Eve. My eyelids were heavy, my breathing was deep, Secure and surrounded by love I would sleep. In perfect contentment, or so it would seem, So I slumbered, perhaps I started to dream. The sound wasn't loud, and it wasn't too near, But I opened my eyes when it tickled my ear. Perhaps just a cough, I didn't quite know, Then the sure sound of footsteps outside in the snow. My soul gave a tremble, I struggled to hear, And I crept to the door just to see who was near. Standing out in the cold and the dark of the night, A lone figure stood, his face weary and tight. A soldier, I puzzled, some twenty years old, Perhaps a Marine, huddled there in the cold. Alone in the dark, he looked up and smiled, Standing watch over me, and my wife and my child. "What are you doing?" I asked without fear. "Come in this moment, it's freezing out here! Put down your pack, brush the snow from your sleeve, You should be at home on a cold Christmas Eve!" For barely a moment I saw his eyes shift, Away from the cold and the snow blown in drifts.. To the window that danced with a warm fire's light. Then he sighed and he said, "It's really all right, I'm out here by choice.I'm here every night." "It's my duty to stand at the front of the line, That separates you from the darkest of times. No one had to ask or beg or implore me, I'm proud to stand here like my fathers before me. My Gramps died at 'Pearl' on a day in December," Then he sighed, "That's a Christmas 'Gram always remembers." My dad stood his watch in the jungles of 'Nam', And now it is my turn and so, here I am. I've not seen my own son in more than a while, But my wife sends me pictures, he's sure got her smile. Then he bent and he carefully pulled from his bag, The red, white, and blue... an American flag. "I can live through the cold and the being alone, Away from my family, my house, and my home. I can stand at my post through the rain and the sleet, I can sleep in a foxhole with little to eat. I can carry the weight of killing another, Or lay down my life with my sister and brother... Who stand at the front against any and all, To ensure for all time that this flag will not fall." "So go back inside, and harbor no fright, Your family is waiting and I'll be all right." "But isn't there something I can do, at the least, "Give you money," I asked, "or prepare you a feast? It seems all too little for all that you've done, For being away from your wife and your son." Then his eye welled a tear that held no regret, "Just tell us you love us, and never forget. To fight for our rights back at home while we're gone, To stand your own watch, no matter how long. For when we come home, either! standing or dead, To know you remember we fought and we bled Is payment enough, and with that we will trust That we mattered to you as you mattered to us. ===========================================================
WE ALL NEED TO PRAY FOR OUR MILITARY PERSONNEL EVERY NIGHT!
- - - - - Got a patient care issue with a VA Medical Center? The Office of the Medical Inspector (OMI) carries the responsibility of helping to resolve medical problems and issues that veterans and their families may encounter with the Veterans Health Administration. Many veterans are not aware of this office or what type of services they provide. OMI is not part of the Inspector General; they do not conduct criminal investigations nor do they address benefits issues. Their mission is centered on assuring good healthcare for veterans. OMI is prepared to address any patient care issue that arises in a VA Medical Center (VAMC). OMI's Contact Iinformation: Department of Veterans Affairs Office of the Medical Inspector (OMI) 810 Vermont Avenue, NW Washington, D.C. 20420 800-634-4782 OR (202) 501-2000 OMITRIAGE@MAIL.VA.GOV
THE FINAL INSPECTION A Marine stood and faced God, Which must always come to pass. He hoped his shoes were shining, Just as brightly as his brass. "Step forward now, Marine, How shall I deal with you? Have you always turned the other cheek? To My Church have you been true?" The Marine squared his shoulders and said, "No, Lord, I guess I ain't. Because those of us who carry guns, Can't always be a saint. I've had to work most Sundays, And at times my talk was tough. And sometimes I've been violent, Because the world is awfully rough. But, I never took a penny, That wasn't mine to keep... Though I worked a lot of overtime, When the bills got just too steep. And I never passed a cry for help, Though at times I shook with fear. And sometimes, God, forgive me, I've wept unmanly tears. I know I don't deserve a place, Among the people here. They never wanted me around, Except to calm their fears. If you've a place for me here, Lord, It needn't be so grand. I never expected or had too much, But if you don't, I'll understand." There was a silence all around the throne, Where the saints had often trod. As the Marine waited quietly, For the judgment of his God. "Step forward now, Marine, You've borne your burdens well. Walk peacefully on Heaven's streets, You've done your time in Hell."
Want to help an emerging veteran ? ? ? Help the veteran's family . . . they are at home dealing with issues. Don't know where to go for information? Try the local reserve unit.
Eulogy for a Veteran Do not stand at my grave and weep. I am not there, I do not sleep. I am a thousand winds that blow. I am the diamond glints on snow. I am the sunlight on ripened grain. I am the Gentle autumn rain. When you awaken in the mornings hush, I am the swift uplifting rush of quiet birds in circled flight, I am the soft stars that shine at night. Do not stand at my grave and cry, I am not there, I did not die. - Author Unknown ----------------------------------------------------------
The Elks National Veterans Service Commission's Online Resource Center (website) is subordinate to the Grand Lodge page. It is: http://www.elks.org/vets/ The purpose of this online resource center is not only to inform the public and our own members of our good works, but also to help our Veterans Service chairmen and committee members live up to our pledge: "So long as there are veterans, the Benevolent and Protective Order of Elks will never forget them." Here is an example of a resource article - The Student Veteran Volunteer Program: What is the Program, What is its Intent? Please visit the Elks National Veterans Service website.