Lodge Facilities
Saratoga-Wilton Elks Lodge #161
We have a 250 plus seating banquet hall, a great lounge area with seating for 100, and a patio and gazebo area with a view of Loughberry Lake and plenty of parking. We are located in historic Saratoga Springs, near all activities including the Saratoga Race Course,the Saratoga Casino & Raceway, and the Saratoga Performing Arts Center. Visit our web site at http://saratogawiltonelks161.org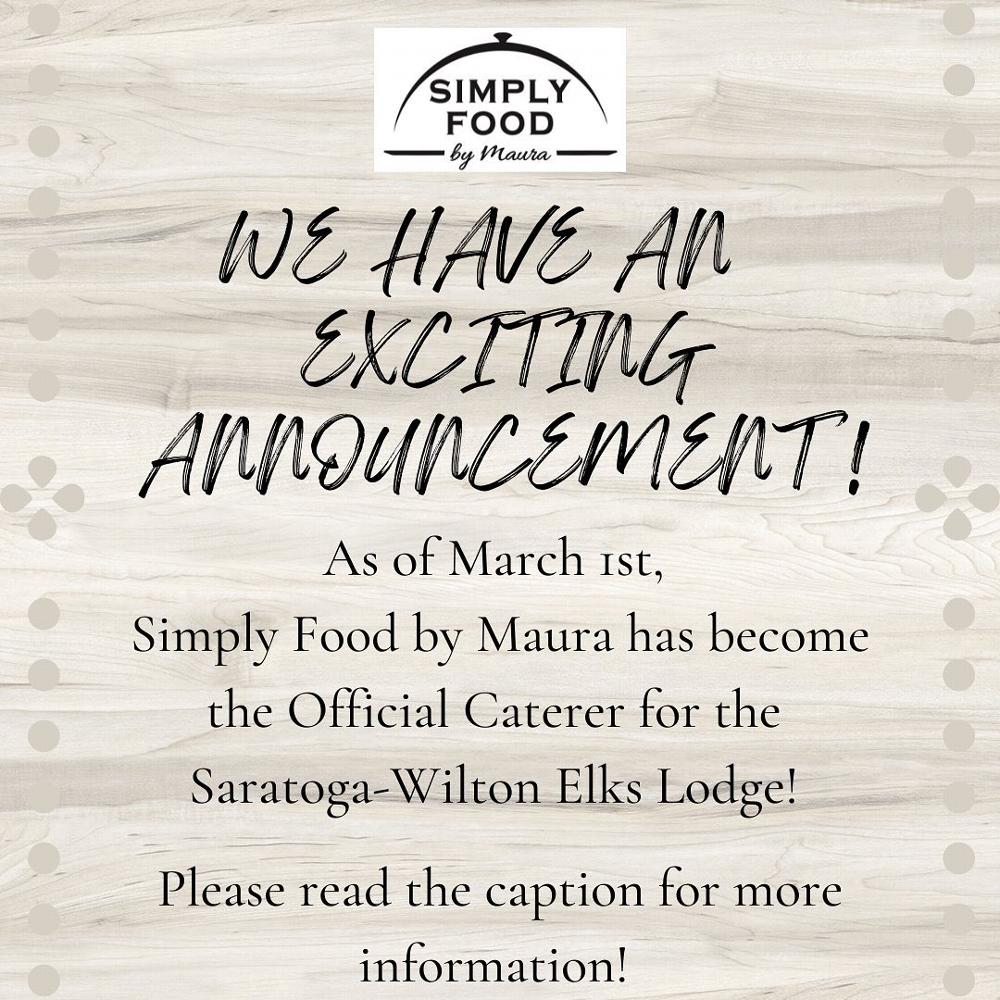 Banquet/Facilities
We've got simply exciting news to share! As of March 1st, Simply Food by Maura has officially become the Caterer for the Saratoga-Wilton Elks Lodge.
Maura and Lead Chef, Lucia, will still be cooking and baking at Simply Food by Maura, but now they'll also be extending their skills to plan and cater beautifully customized events at the Elks Lodge. Partnering with this new venue will provide the perfect opportunity for Maura and Lucia's love of party planning and crafting creative and delicious menus.
Addison is back full-time to keep the 666 Rt. 9 location running smoothly and to introduce some exciting new menu specials! Our wonderful man of many hats, Dan, will still be taking your orders with a smile! And Maura's daughter, Amelia, is on the team as the Catering Coordinator.
Simply Food by Maura is Good Food, Simply Done. Our Elevated Comfort Food has a variety of packages to suit your tastes & styles.
A huge thank you to the Saratoga-Wilton Elks Lodge for welcoming and supporting us as we expand our services to event catering in their beautiful venue. Stay tuned as we begin to share our new menus!
Call us today to discuss your upcoming event - wedding, birthday party, baby shower, and more!
Call/text us on our dedicated Catering line: 971-808-2661
simplyfoodbymaura@gmail.com
Pictured: Maura and Lucia catering various events at the Saratoga Wilton Elks Lodge and upcoming wedding appetizers!
Saratoga-Wilton Elks 161 RV Hookups
Saratoga-Wilton Elks #161, 1 Elks Lane, Saratoga Springs, NY 12866
RV Hookups - Two spaces on black top surface for RV use with 30amp electric hookups. Water faucet available at lodge building to fill tanks. Rates: $20 per night ($15-dry camping). One week maximum, then must vacate for a period of one week and return if space is available.
Make your check out to Saratoga-Wilton Elks #161 and in the memo put "Donation to ENF".
Contact Don at 518-935-8885 or email at SW161ElksRV@yahoo.com to reserve a spot.
We are located on 1 Elks Lane just off Maple Avenue. Our lodge is 1.4 miles off of Interstate 87 (Northway) Exit 15. We do not have a dump station. the closest dump station is at the Moreau State Park (Exit 17) located 11.9 mies (14 minutes) from the Lodge. Moreau State Park is located at 605 Old Saratoga Road, Gansevoort, NY 12831 (GPS: 43.227,-73.707). Dump station is open 8 am - 8 pm Monday - Saturday. Closed on Sundays. Charge is $8 per RV>
We have takeout dinners every Wednesday night 430-6 pm. We have dinner specials and pub food every Friday evening 5 - 7pm in our lounge.
---
Back to top