Lodge Facilities
Fayetteville Lodge
Our Location is approximately 10 miles off Interstate 95. Exit off I95 on Hwy 24 toward Fayetteville. Follow Hwy 24 until you reach Ramsey St. Turn right onto Ramsey Street and continue until you come to Country Club Drive/Hwy 401 Business. Turn left onto Country Club Drive. (There is a Rite Aid Drug at the corner on your left.) Follow Country Club Drive about 1.5 miles to Gables Dr., turn left and proceed to the end of Gables Dr (3269 Gables Drive). Use the the following link for further help: Map Location: Click on, "Driving Directions:" "To this location", located directly above the Map, for a printable map to our Lodge.
Monday 3:00PM - 9:00PM
Tuesday 3:00PM - 9:00PM
Wednesday 3:00PM - 9:00PM

Friday 3:00PM - 9:00PM
Saturday 3:00PM - Midnight
CASINO NIGHT
QUARTERLY CASINO NIGHTS.
DART MACHINE
We have a regulation size dart machine. Call us about your dart tournaments!
Pool Table
Pool table available. Brand new cover,brand new balls and new tips on pool sticks.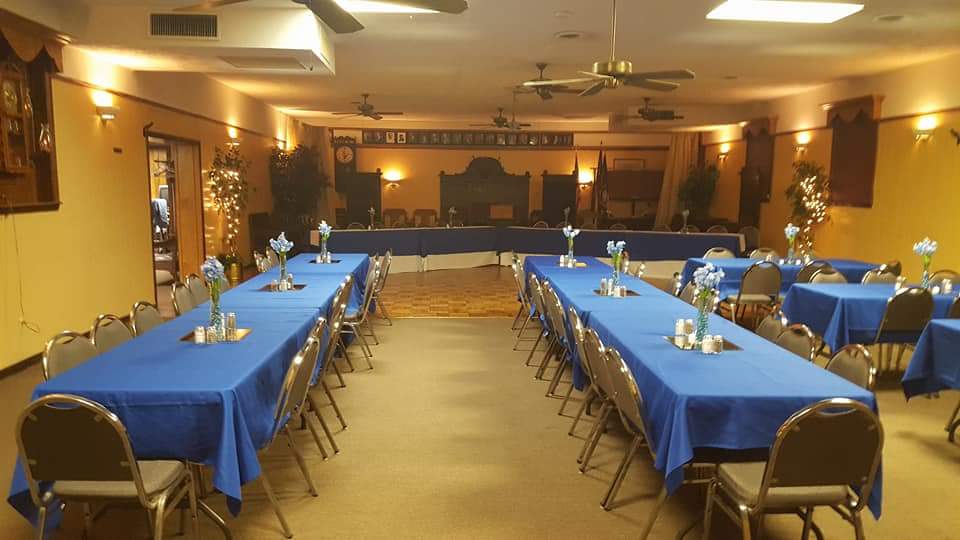 Banquet Room
Our banquet room is available for rent. Hold your next wedding, party or function in our spacious room. Our facility can accommodate up to 125 people. A separate bar is available for your private occasion. For more information contact the Lodge by telephone, fax, or email.
Kitchen
Our Kitchen area is fully equipped with commerical grade open grill, stove, oven, twin unit fryer and deep sink. Additionally a microwave, refridgerator, freezer and dishwasher are available. The cupboards are well stocked with cooking utensils, pots, pans, dinnerware and cutlery. The kitchen area is separately climate controlled from the rest of the Lodge.
Friday Night Dinner
One Friday night a month from 6:00 - 8:00 is a dining experience, which is hosted by one of our members. Price will vary depending on the meal for that evening. The entree of the evening varies from Steak,Seafood,Itailian,Mexican,Pork Chops, or Chicken. All meals are HOMEMADE! Each Friday features side dishes and deserts to compliment the already delicious meal.
RV Facilities
8 RV hook-ups with water, electric, cable TV. No dump station is available.
$20.00/Night
Lodge Pool
Our Beautiful Junior Olympic size pool opens on Memorial Day and closes on Labor Day. The pool area has it's own snack bar, with food and beverages.

Guest fees:
Children 2 and under FREE
All other guests $8.00
POOL HOURS
Sunday 12:00pm - 8:00pm
Monday CLOSED
Tuesday 11:00am - 8:00pm
Wednesday 11:00am - 8:00pm
Thursday 11:00am - 8:00pm
Friday 11:00am - 8:00pm
Saturday 10:00am - 8:00pm

Snack Bar Hours
Sunday 12:00pm - 4:00pm
Tuesday - Friday 11:00am - 4:00pm
Saturday 10:00am - 4:00pm
Volleyball Area
Near our pool we have a space set up for Volleyball. Full size volleyball net and volleyball.
HORSESHOE PIT
Near our pool we have horseshoe pits complete with scoreboard.
---
Back to top