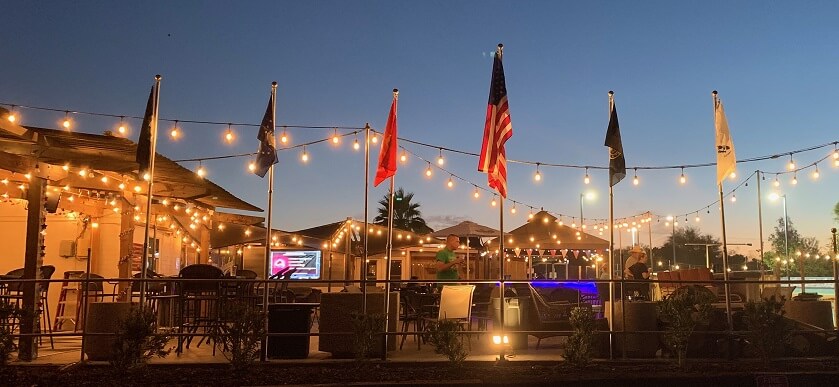 Welcome to Scottsdale Elks Lodge #2148.
Since 1960 still the Friendliest and now Fastest Growing Lodge in the West. Over 1,200 members!
---
Dues for the membership year 2023-2024 are $103.50
and are due and payable no later than March 31, 2023. If you'd like to get a head start and pay before you forget, you can now pay on line on our
secure website.
After processing you can pick up your card either at the bar or when the Lodge Secretary's office is open (normally mid-day Mondays and Fridays), or you can ask to have it mailed to you. Either way, the card key system will be changed April 1st and you'll need your new card to be served. When you renew, feel free to make a general donation to YOUR Lodge or a special donation to the Elks National Foundation. (P.S. - your Lodge's portion of the dues is only $72 and the remainder goes to state and national assessments including the Elks magazine).
Opening Hours and Events and activities around the Lodge.
.....to obtain the latest information about the Lodge please visit
our social media pages by scrolling down to the end of this page.
We are open seven days a week
, 365 days a year including Christmas and New Years.
Click here
to see the hours we're open each day and food options for the day.
To see all the regularly scheduled events,
please click the "Calendar" link to the left of this page. For a list of the regularly scheduled weekly events -- what normally happens on a specific day,
please click here
.
One of the main sources for information for members and guests is our own Lodge publication, the "Maverick". Published
monthly it contains information about all the events that were scheduled as of its printing date.
Contained in the Maverick is basic information about the Lodge, a message from our Exalted Ruler and full color flyers on all the events that were planned as of the beginning of the month. Click here for the current copy.
For the most up to date information on the Lodge, please scroll down and connect with us on our social media pages.
To learn more about our Lodge history,
please click one the
"More Info"
link found on the left side of this Welcome page.
We're the only Elks Lodge in America built on the grounds of a World War II former POW camp! Read about the "Great Escape" in 1944 by German sailors thinking they could float down the Salt River to freedom in Mexico. The joke was sure on them.....
Read about our various Facilities and amenities.....learn who are officers are, and our Contact information. All this information is available on one of the links to the left of this page.
And please visit the "More Info" link for our By Laws (member login required), information on how to join us, information about our weekly "Big Band and Dancing" event and of course details on our food with links to the various menus.
Supporting the Lodge and having fun via gaming....
The weekly
Queen of Hearts
drawing is one of our most popular weekly events! Buy a ticket and if your number is pulled you'll step up to the Queen of Hearts board and if you pick the Queen, you win! And win big for now. Our prize pool is well over $12,000!
Our Pull Tab machine will sell tickets that if you have a winning combination you could win up to $400 for a $2 investment! We have also $1 games to play. Since we started pull tabs in 2018 your playing has returned over $45,000 to the Lodge to be used for our operational expenses.
We're also an authorized Arizona Lottery retailer. We can sell both "instant" games and the various "draw" games. We will pay winners in cash up to $100 and by check up to $500. Winners over $500 must be paid by the Lottery per their rules.
Last, but certainly not least are our five Bingo machines. Stop thinking of Grandma dabbing a card and think of Vegas-type spinning reel machines and winning! To play, get a free player's card from the bartender, stuff some cash into the machine and start playing. Keep playing as long as you have credits to use. When you're done, you can carry over the credits to the next time you want to play or get cash from our on-site ATM machine with no fee for cashing out! It's great fun and earns your Lodge needed cash.
================================== Social Media Pages Follow ==================================