Lodge #2148 Home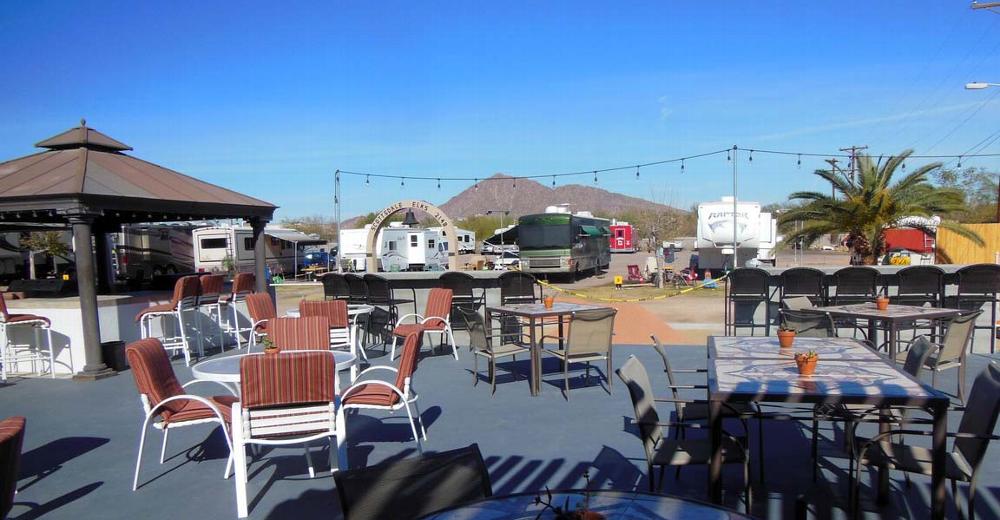 Welcome to Scottsdale Lodge 2148
Since 1960 -- The Original and still the Friendliest Lodge in Arizona
---
---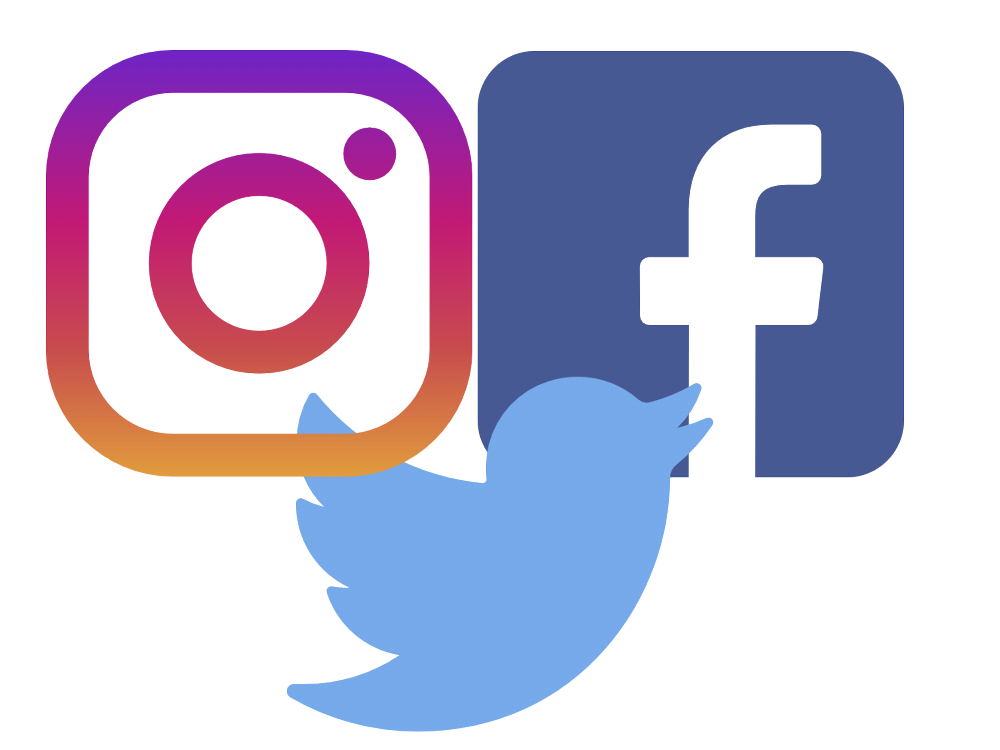 We are now on social media! Connect with us @elkslodge2148 on Facebook, Instagram and Twitter. You'll have access to what's happening at the Lodge in real time as well as notifications of special offers. When you visit us be sure to check in and tag us on your photos @elkslodge2148 #elkslodge2148
Firewood for Charity coming up.....Stay tuned to this space and our social media accounts
for specific details about our new Firewood for Charity program. You've probably noticed the large piles of firewood in our back yard. Thanks to the very generous folks at Alpha Landscaping we're soon able to trade this firewood for your donations. If you haven't purchased your firewood for this season, please wait. We promise there will be no cheaper place in town. And you'll have the satisfaction of knowing your donations will help support YOUR Elks charities!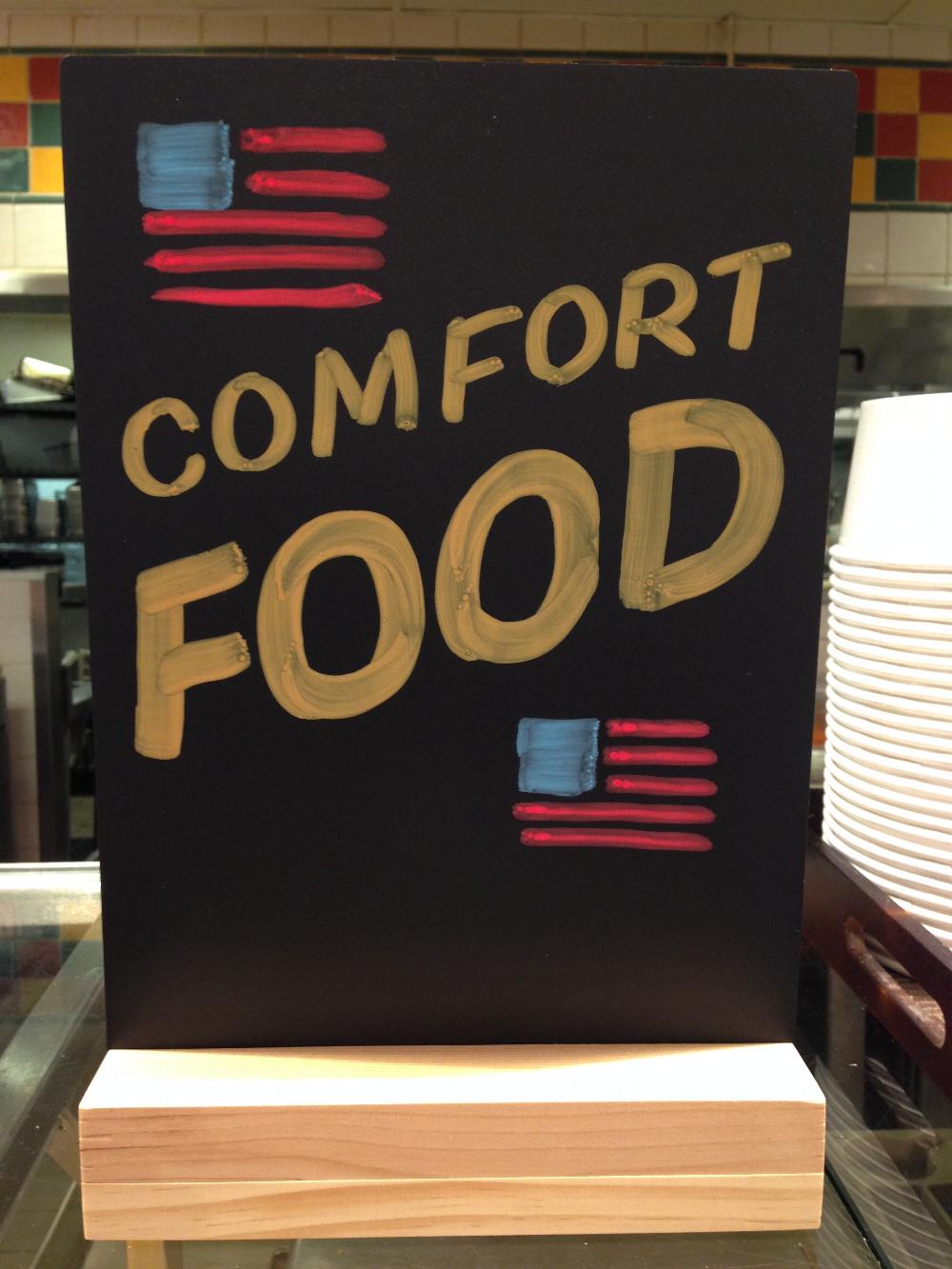 Expanded food offerings and food service hours...Thanks to the hard work of Trustee Tim Hassart and Tiler Tony Darwish we have expanded food hours and a new menu. Food is now being served from our new menu on Sundays from 11am to 3pm, on Wednesdays from 12 noon to 7pm, on non-Steak Night Thursdays from 5:30 to 7:30 pm and the menu will also be available during Fish Fry Fridays from 5:30 - 7:30 pm. Click here for the menu.
Additionally, a rotating selection of soups and chili will be available every day in the bar in addition to our usual bar food menu and snack machine. So come on down to the Lodge and take advantage of our new food offerings.
Thanksgiving is approaching....and time for our annual appeal for Thanksgiving Dinner Boxes. In response requests from the community, this year we're soliciting donations in the form of grocery store gift cards. Any local grocery store card is welcome. We're hoping for cards valued at $65 - $70, but card donations in any amount are welcome (please be sure to leave the activation receipt with the card). Every card will be given to a needy family so they can buy whatever they need to make it a Happy Thanksgiving. Our families at Tonalea School are at 97% poverty level, so our help is greatly appreciated. Let's face it -- most of us Elks have it pretty good. Time to share our good fortune and blessings with those who aren't as fortunate. Please be generous.
Toys for Tots....Scottsdale Elks have joined with the Phoenician Oakland Raiders Watch
Club to help fill the Marine Corp. Reserve's Toys for Tots box in our entryway. Please bring a new unwrapped toy by December 7, 2019 so that the gifts may be delivered to the children in time for Christmas. The Marines do this every year and with our help can make a wonderful holiday season this year for families in need. Any toy, all age groups are welcome.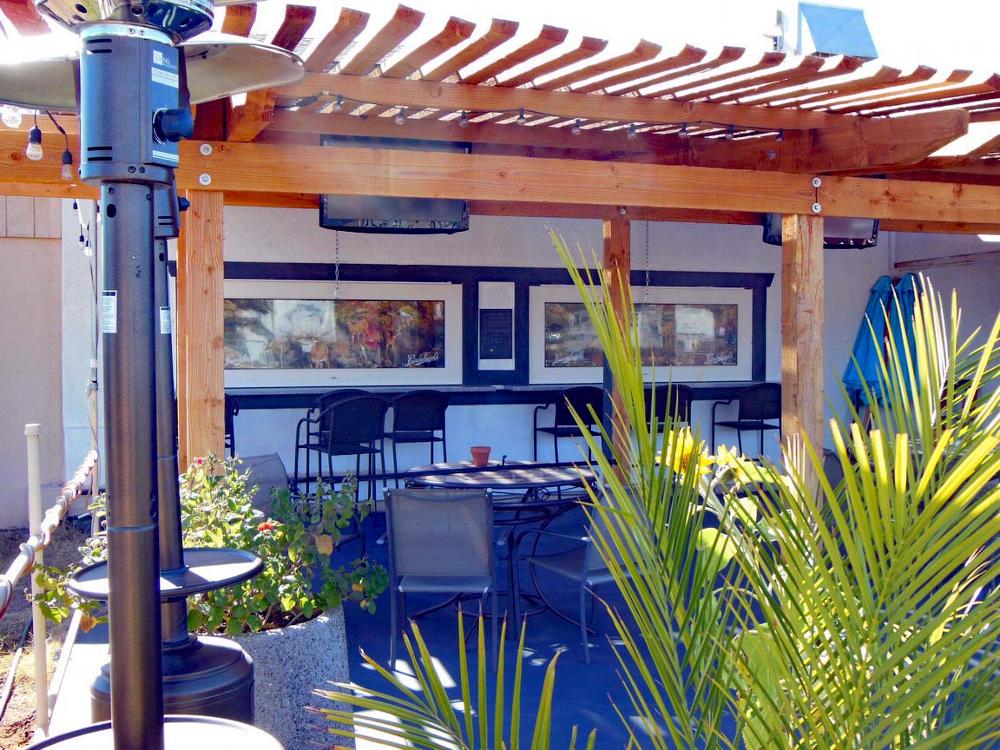 Great weather is here....join us on the patio. Four outdoor TVs allows you to watch all your favorite sporting events....Sundays we open at 10am for pro football, Saturdays are college and Thursdays are more pro football. We're serving food on Sundays (11 - 3pm) and on non-Steak Night Thursdays, Tim is preparing some great burgers, brats, dogs, etc. We also have a extended menu of bar snacks thanks to our new air fryer. So come on down...all your favorite beverages available all day and evening.
Volleyball starting Sunday November 30th! Volleyball organizer Shawn McConnell is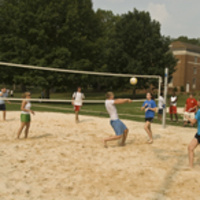 almost done, the kickoff event will be a charity tournament to benefit our Elks charities and volleyball leagues will be forming for play on our brand new sand courts. For more information and information on how to join one of the leagues, please visit https://www.funkvolley.com/
If you're not a player, you're surely welcome to watch all the live action. DO YOUR PART....be hospitable and welcoming to the players and encourage them to join our Lodge...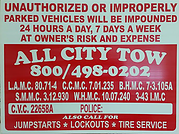 UNDER NO CIRCUMSTANCES ARE ANY VEHICLES, CAMPERS, RVS, TRAILERS, ETC TO BE LEFT ON LODGE PROPERTY WITHOUT WRITTEN PERMISSION OF THE LODGE SECRETARY. IF YOU DO NOT NOTIFY THE LODGE SECRETARY YOUR VEHICLE WILL BE IMPOUNDED AND TOWED AT YOUR EXPENSE. IT IS NOT ENOUGH TO ASK THE BARTENDER. THE LODGE SECRETARY MUST GRANT WRITTEN PERMISSION.
Expanded and improve covered patio....your Trustees have been working day and night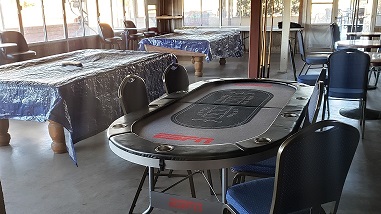 in making improvements to our covered patio. We now have three pool tables available for use, (one can be covered for ping pong), we've installed four new TVs, purchased some new tables and chairs and improved the layout to provide a permanent home for our two poker tables. A fresh coat of paint wraps everything up. So come on down and enjoy the new facilities. All your favorite bevrages and bar snacks available all day every day.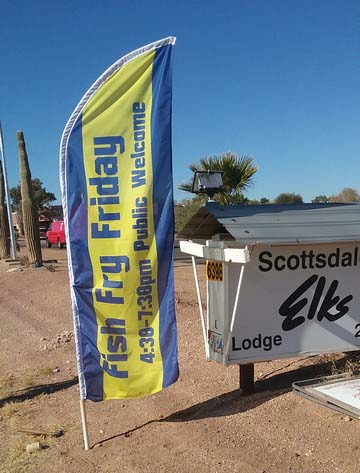 Fish Fry is back bigger and better than last year....In addition to our great regular menu of delicious fish we've expanded the event to offer our regular menu in addition to the fish. Click here for a copy of the new menu. Food served every Friday from 5:30 pm to 7:30 pm. It's great out on the patio with the cooler weather. All your favorite beverages are available so why cook? Come on down and support your Lodge by patronizing our weekly Fish Fry event.
2019-2020 Dues are past due. Please do not be insulted if the bartender asks to see your current Elks card. If you do not have a 2019/2020 card you will be denied service until you pay your 2019/2020 dues. You should have received your Dues Notice in the mail and it's time to pay! $92.50 for regular members, $50.00 for Life members. We accept, cash, credit cards, and personal checks for dues payments.
The Queen of Hearts drawings every Thursday at 7:30pm. You can purchase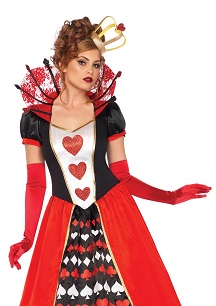 Queen of Hearts tickets any day of the week from the bartender, but to win the jackpot you must be present at the drawing. Drawings are every Thursday at 7:30 pm. Make a point to purchase your tickets and come on down to the Lodge Thursday evenings. Remember, 30% of your ticket price goes to Lodge charities. We can't fund those charities without YOU! Jackpot now over $5,100!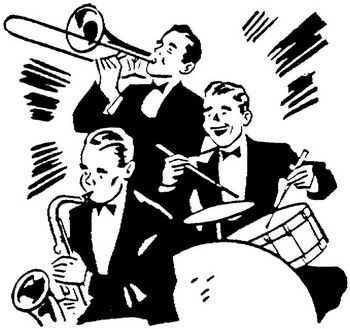 Be sure to stop by and listen...
.every Wednesday to the Havin Fun Band.
Dance to the big bands sounds of the 11 piece Havin' Fun Big Band at the Scottsdale Elks Lodge. Music of all styles including Fox Trot, Swing, Waltz, Polka, Rock, and Latin (Cha-Cha, Rhumba, Tango, Samba).
Click here for musicians' biographies.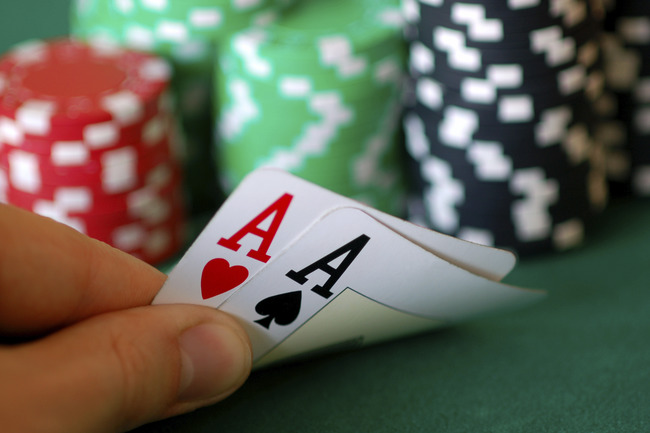 Poker Night.....is every Wednesday and Friday. Registration starts 6:30 pm with play commencing at 7. Meet new pals and come on down and enjoy the company. Some experience preferred, but new players welcomed. IMPORTANT! Arizona law does not allow playing poker for money in licensed bars. We could lose our liquor license if we are caught allowing play for cash. Please cooperate with this rule -- social card playing only!
Steak Night ...the first and third Thursday of each month. 5:00 - 7:30 pm. Upcoming Steak Nights are Thursday November 21st and Thursday December 5th. Ribeye and Filet Migon available. Come down and enjoy either a 10 oz. Ribeye ($18) or Filet Mignon ($18).....Prices include mashed potatoes, corn on the cob and roll. Salad available for $2 extra. All your favorite beverages available from the bar at very reasonable prices. Click here for our new menu.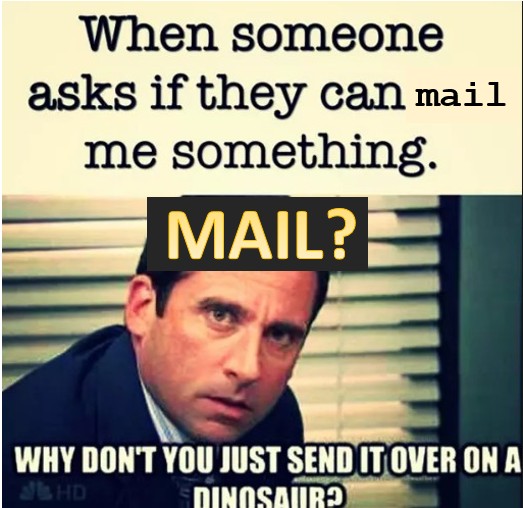 Get in the know about what's going on....subscribe to our weekly informational emails....Aside from the website, this is the best way to stay in touch with YOUR lodge and what's happening! We absolutely promise to never, ever, ever rent/sell/give away/disclose or otherwise tell ANYONE what your email address is. It will ONLY be used for official Lodge communications.
Give it a try - email BPOEScottsdale@Yahoo.com and ask to be added to our weekly email list. Don't delay, only a limited number of spaces are available.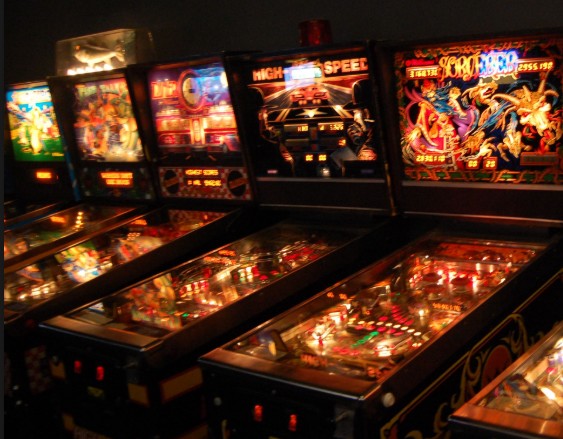 Stop by and check out our Game Room....four (count 'em four - action backed pinball machines....electronic darts (scoring electronic, real darts), and a new fully stocked snack machine. Special electrical plugs for your cell phones and other gadgets! Get with your pals and start up your own pinball tournament....games only 50 cents, 5 games for $2.00. All snack machine items only $1!! Of course all your favorite beverages are available from the bartender....
Lodge Meetings -- 3rd Monday each month. Next Meeting Monday November 18th at 7pm. All members welcome and encouraged to attend. Find out what's going on at YOUR lodge!
Lodge open every day - 11 am to 9 pm except Saturdays which is 11 am to 7pm. Horseshoe pit now open for play! Click here for full list of amenities in our Lodge.
Check out our calendar for a complete list of events. Click on the "Calendar Link" to the left for details of all out activities.
Check out all our news....November Maverick available. Click here to view (members only). Be sure to visit the "News" link to the left frequently for the most updated news about YOUR Lodge!
We ALWAYS welcome new applications for membership, click here for more details....
Elk of the Month - Beth Rhue
Officer of the Month - Tony Darwish
Volunteer of the Month - Tom Hughes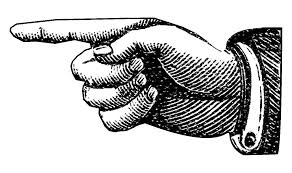 Please click one of the buttons to the left for more information about our Lodge.
---
Back to top