Lodge #1905 Home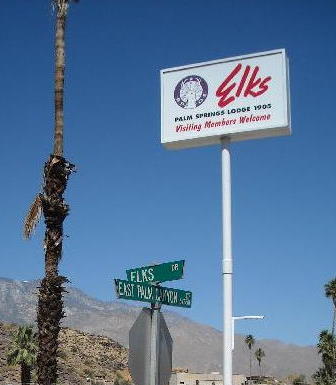 Welcome to the Elks Lodge in Palm Springs, California!
Lodge meetings are the second and fourth Thursday Night at 7:00 pm.
House Committee meetings are the second and fourth Tuesday of the month at 5:30pm.

Our Seasonal hours of operation are:
Tuesday through Saturday 4:00 pm to 9:00ish pm.
The Club telephone number is (760) 328-2554.
Our address is: 67491 East Palm Canyon Drive & Elk Trail, Cathedral City CA. Were are across from Boomers Fun Zone, Trader Joe's and Target.
The telephone number for the Lodge Secretary is (760) 328-3512, and the Secretary's office hours are Monday, Wednesday, Friday 1pm to 5:00pm.
---
Back to top