Lodge #1905 Guest Book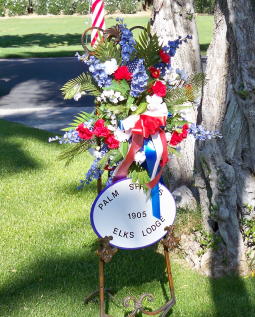 ---
from San Fernando, CA, Lodge #1539
Stopped by for your special event last night. Had a great time good company, looking forward to coming by again
Posted 05/20/2017 at 5:00 PM
---
from Ontario, CA, Lodge #1419
My family and I were on a weekend vacation in Palm Springs and I wanted to check out the Palm Springs Elks. We went for breakfast on Sunday morning and my kids loved it! Everyone was so nice! Thank you for your hospitality!
Posted 06/07/2016 at 12:05 AM
---
from Sky Forest, CA, Lodge #2393
Thanks to Roger and the Palm Springs Elks. Very nice visit. See you soon.
Posted 01/04/2015 at 3:23 PM
---
from Elk Grove, CA, Lodge #2577
Enjoying the State Convention here. Phil & Diannia, PER
Posted 05/14/2014 at 4:28 PM
---
from Redlands, CA, Lodge #583
We were at your Lodge several months ago for Rib night and enjoyed it so much that we plan our trips to Palm Springs around your Rib nighs....Great lodge..
Posted 03/05/2014 at 12:53 PM
---
from Ridgecrest, CA, Lodge #1913
Visited your Lodge Friday, 24 Jan 2014. We enjoyed dancing the night away and meeting PDDGER's Chuck & Barbara Knox. We also meet newly initated Palm Springs members Hugh and Marian Littleton. Marian was born and raised in our city of Ridgecrest, CA., and we have known her since she was a young girl. Thank you all for a memorible time. Ridgecrest PER/ER Ken Dalpiaz
Posted 01/28/2014 at 12:18 AM
---
from Hemet, CA, Lodge #1740
Visited on Thursday September 20th. Looking forward tovisiting again on Labor Day for the Party. I hope all the members come out so I can meet you. You have a grat Lodge.
Posted 08/29/2012 at 6:49 PM
---
from Vancouver, WA, Lodge #823
Vacation in Palm Springs over Mothers Day. Attended Mothers Day ceremony. We came back on Wednesday for Rib Night with some friends had a great time. My wife got talking with Dee about places to going and see, and of course where to Shop. Thank you, We enjoyed your Lodge, God Bless you all.
Posted 06/11/2012 at 10:55 AM
---
Back to top