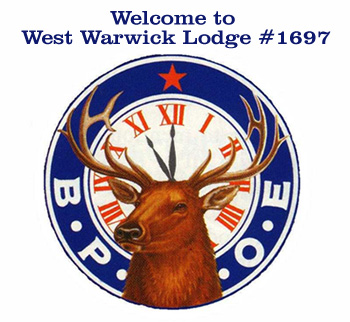 On behalf of Exalted Ruler G. Jerry Bucci and his Officers and members, Welcome to West Warwick Lodge #1697.

Monthly Lodge Member Meetings are held the 3rd Tuesday evening each month @ 7pm, except for Feb., March, and April, when meetings are held the 1st and 3rd Tuesday evening @ 7pm.
Board of Directors meetings are held monthly.
House Committee meets on the 1st Wednesday of each month @ 6:00 PM.
Directions: 60 Clyde Street West Warwick RI 02893

1:Rt 95 North or South 2:Turn SLIGHT RIGHT onto MAIN AVE/RI-113. 2.22 miles (3.58 Km) 3: MAIN AVE/RI-113 becomes RI-113/EAST AVE. 1.17 miles (1.88 Km) 4: Stay straight to go onto EAST AVE. 0.37 miles (0.59 Km) 5: Turn SLIGHT RIGHT onto RIVER ST. 0.17 miles (0.28 Km) 6: RIVER ST becomes WAKEFIELD ST. 1.75 miles (2.81 Km) 7: Turn LEFT onto GRANDVIEW DR. 0.13 miles (0.21 Km) 8: GRANDVIEW DR becomes CLYDE ST. 0.07 miles (0.12 Km)

If you are in the neighborhood, on vacation, or just passing through, be sure to stop by and enjoy the hospitality of the Lodge. We will look forward to seeing you!