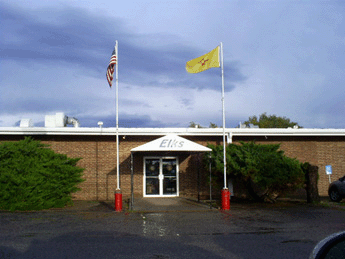 Hours of Operation
M-Sat Open at 5:30 pm Closed Sunday
Pool is now closed for the season.
Meetings are held on the first & third Tuesdays of the month at 7:30 PM, except the months of July & Aug. when we meet on the third Tuesday only.

Lodge location: 1112 Susan Avenue, Gallup NM
Dinners are now being done biweekly (see 1440 Calendar ) Members are welcome to dry camp on our lodge property, we have lots of space and can provide an electrical hook up, if needed, to one camping spot.

We have an outstanding view of the Red Rocks and Pyramid Peak.

Our lodge is famous for it's hospitality! Please visit us and find out why! Sign our Virtual Guestbook