Lodge #1070 Home
---
Hello and welcome to the Lambertville Elks Lodge #1070 Home! Be sure to check our updated activities calendar to stay informed of the events that our House Committee is currently planning. Our dining room as been recently redone. Come to one of our many events and see the improvments.
Please visit the News page for upcoming events at our lodge.
Lodge meetings are held on the 2nd & 4th Thursday of the month
---
Lodge Facilities Booking: Please contact our House Committee if you would like to book your event at the Lambertville Elks Lodge #1070
Dennis Ledger, House Committee Chairman 609-613-6441
Scott Worthington, House Committee Secretary 267-566-5518
Larry Scheetz, House Committee Member 609-439-9367
William Vogel II, House Committee Member 732-996-4516
---
Charity - Justice
Brotherly Love - Fidelity
---
UP COMING EVENTS
Friday Nights at the Lodge - Bar Open • Football Sundays and NASCAR
October 2nd – Open Mic
October 12th & October 26th – Lodge Meetings
October 15th - Catered by Courtney Dinner - Order form here, https://form.jotform.com/201877061195054

?

October 16th – IRISH NIGHT PARTY

featuring Music by Na'Bodach Tickets are on sale starting on Thursday, September 30th. Doors open at 5:00 p.m. with music from 7:00-10:00 p.m. On the menu will be Corned Beef, Turkey Reuben or Shephard's Pie with a side of French Fries or Onion Rings.

October 30th – Lodge Halloween Party – Tickets Required – $25 per ticket and will include music with the JB Kline Band and the Shackers and food. Doors open at 6:00 p.m. Tickets will be on sale soon.
November 6th – Open Mic
November 9th & November 23rd – Lodge Meetings
November 20th -- New Member Initiation Night – 80's Undercover – More info to come
December 4th – Open Mic
December 5th – Elks Memorial Service
December 11th – Lodge Kids Holiday Party
December 14th & December 28th – Lodge Meetings
December 18th – Lodge Members Holiday Party
December 31st – Lodge New Year's Eve Party – Tickets Required – More info to come
Follow our facebook page for up to date information.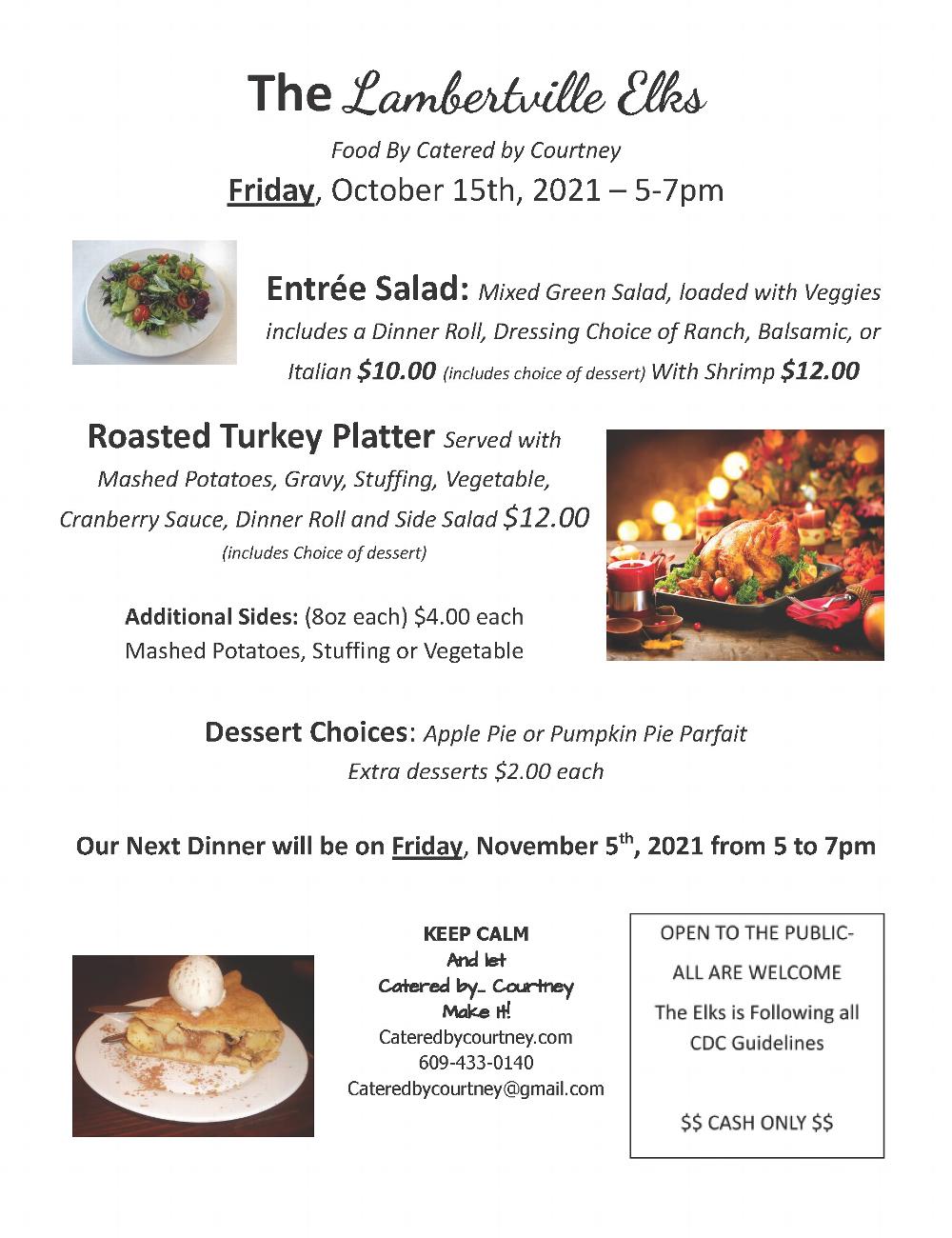 ---
Back to top