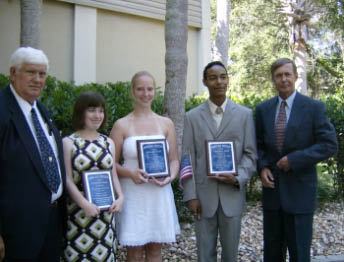 The Elks National Foundation provides more than $3.64 million in college scholarships each year through its three scholarship programs. The application process and deadlines vary for each program. All applications must go through a local Elks Lodge before reaching the Elks National Foundation.

Albany Lodge #713 awards Local Scholarships as well as entering Students in the National Foundation Scholarship program. All scholarships must go through a local Lodge. For more Information contact:


Stan Jones 229-435-0871
Most Valuable Student Scholarships
500 four-year scholarships, ranging from $1,000 per year to $15,000 per year, for graduating high school seniors based on financial need, leadership and scholarship.
Legacy Awards
Four-year, $4,000 merit-based scholarships for children and grandchildren of Elks who are members in good standing.
Emergency Educational Grants
One-year educational grants available to children of deceased or totally disabled Elks.
NEWS REALEASE
Chicago, IL. – The cost of college is formidable, preventing many deserving students from attending at all and leaving many others to graduate with an overwhelming amount of debt. Last year, the average tuition at a private four-year institution rose 5.9 percent, reaching $25,143, and the average cost of attending a public four-year university increased 6.4 percent*. The Elks National Foundation's Most Valuable Student Scholarship contest, which launched on September 1, 2009, aims to alleviate this financial burden for 500 ambitious students.
This year, through the MVS Scholarship, the Elks National Foundation will award $2.296 million, giving students a chance to earn a college education without incurring insurmountable loans. The Foundation awards 18 top winners scholarships ranging from $8,000 to $60,000 over four years. The remaining 482 runners-up receive $4,000 scholarships over four years.
This scholarship is available to all high school seniors who are United States citizens. Applicants do not need to be related to a member of the Elks. Males and females compete separately, and are judged on scholarship, leadership and financial need. Completed applications must be turned in to the applicant's nearest Elks Lodge, no later than November 2, 2009. National finalists will be required to submit a secondary application. The 500 national winners will be announced by April 1, 2010. Albany Winners will receive $500.00 and entry to District, State and National competition.
Applications for the 2010 are available at Albany Elks Lodge #713, local high schools, and for download at www.elks.org/enf/scholars.