Fort Madison Lodge 374 lapel pin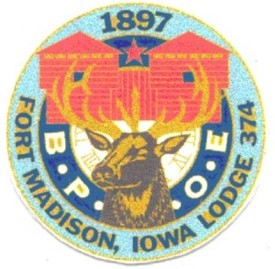 This is the image on the Fort Madison Elks Lodge 374 lapel pin.

The design was created by Jamie Knapp, son of Fort Madison Elk , retired Fort Madison High School art teacher, abd Fort Madison High School coach Jim Knapp.

The pin's central element is the Historic BPOE logo with the magestic Elk's head and antlers. Above the Elk's antlers are blockhouses symbolic of Old Fort Madison. 1897 at the top edge marks the year Fort Madison Lodge 374 was chartered.

If you're interested in more information about our lapel pin, or if you wish to order one call Bob Britton, PER, Secretary at (319) 372-3724.
---
Back to top