Our Food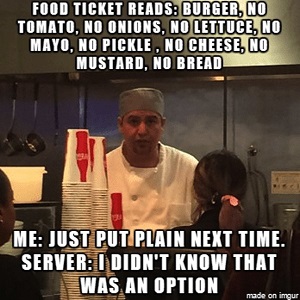 First and Third Tuesdays of each month mean Steak Nights.
Join us from 5:00 to 7:30pm for your choice of a 10oz. NY Strip ($12), Ribeye ($14) or Filet Mignon ($16) severed with garlic mashed potatoes, corn on the cob and a dinner roll. Limted quantities available....
Wednesdays are "Pizza/Pasta/Salad Buffet Nights". All you can eat. Each week we rotate the pizza selections -- plain, peppperoni, sausage, "works" and also rotate the pasta types. Something different every week. Serve yourself. $10. Served from 5 pm to 8am.
Thursdays are "Build Your Own Burger" Nights.
Supplied with the best burger meats from French's Meats, you'll be able to add your own toppings from a variety of cheeses as well as the usual burger toppings. Of course burgers served with generous portion of fries. $10 each.
Wings available for $8.
BYOB night food served from 5pm to 8pm.

Friday Fish Fry every Friday. Delicious fish, french fries, tartar sauce and all the trimmings. Served 4:30 pm to 7:00 pm. $9. Take-away available.
Chicken tenders available for non-fish eaters.
On days/nights we do not serve food, please patronize our Snack Machine. Filled with completely unwholesome but tasty snacks. Every item only $1. Located in the Game Room.
---
Back to top