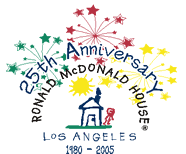 Many Ronald McDonald Houses work with local recycling centers to receive money for collecting tabs from aluminum cans - including those from pet food cans, vegetable and soup cans, as well as soda cans. This popular fundraising program began in St. Paul, Minnesota in 1987. Since that time billions of pop/pull tabs and well over a million dollars have been collected in support of Ronald McDonald House Charities (RMHC).

The Pop Tab program is an environmentally smart, community friendly program which focuses on separating the pull tab from aluminum cans. The tab is a higher grade aluminum than the can, resulting in a higher dollar return per pound than cans.


Collect aluminum pop tabs (pull tabs) for Ronald McDonald House. Drop them off at donation collection stations located at:


Burbank Lodge - or - the Burbank Department of Water and Power.
The money raised from recycling generous donations of pop tabs benefits the children and families of the Los Angeles Ronald McDonald House(R). Your caring support helps make a difference in the quality of life for families of children fighting life-threating illnesses.
2005 marked the 25th anniversary of the Los Angeles Ronald McDonald House, the "House That Love Built." Over these many years, our "house" has been able to offer lodging and emotional help to over 20,000 families of seriously ill children thanks to the support received from donors.
Donations of pop tabs helps to offer a caring and supportive environment that our residents call home.
SAVE THOSE POP TABS!!! QUESTIONS? Call Elaine Paonessa at 818-845-6851 or
Click here to go to the Ronald McDonald House Charities website