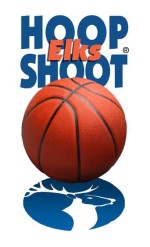 Will be held on Sunday, January 20, 2016 at the Scottsbluff Middle School at 2:00PM.
The contest is for Boys and Girls ages 8 to 13. Contestants' age groups are determined by their age as of April 1, 2015. Trophy's will be awarded with winners continuing on to the next level..
For more information contact: Steven Schwartz at:spsckp@yahoo.com or 308-765-1487.
Parents can visit www.elks.org/hoopshoot for further details.
WE look forward to seeing you all there!!