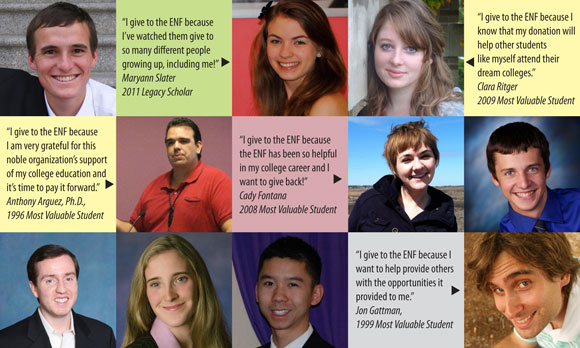 Elks Scholar Donor Honor Roll
We thank the following Elks scholars who have given back by donating to the ENF. Their support helps fund scholarships for future Elks scholars, and shows their commitment to the Elks family. Learn more about Elks scholars.
Are you an Elks scholar? Donate today in any amount. Join your peers in helping fund future ENF scholarships.
Dr. Anthony Arguez, 1996 Most Valuable Student

Mr. Kyle W. Armstrong, 2006 Legacy Award
Sponsoring Lodge: Boonville, NY, Lodge No. 2158
Mr. Kevin S. Baird, 2008 Most Valuable Student
Sponsoring Lodge: Oakmont, PA, Lodge No. 1668
Ms. Erika J. Barger, 2006 Legacy Award
Sponsoring Lodge: Ormond Beach, FL, Lodge No. 2193
Mr. Robert J. Barthelmes, 2008 Most Valuable Student
Sponsoring Lodge: St. Mary's County, MD, Lodge No. 2092
Mr. Brian S. Bates, 2006 Most Valuable Student
Sponsoring Lodge: Fall River, MA, Lodge No. 118
Mr. Drew P. Bausher, 2009 Most Valuable Student
Sponsoring Lodge: Lebanon, PA, Lodge No. 631
Richard M. Benoit III, 2009 Most Valuable Student
Sponsoring Lodge: St. Johnsbury, VT, Lodge No. 1343
Mr. Joseph P. Burt, 2008 Most Valuable Student
Sponsoring Lodge: Preston, ID, Lodge No. 1670
Ms. Bryce E. Caswell, 2003 Most Valuable Student
Sponsoring Lodge: Calpine, CA, Lodge No. 2432
Mrs. Katie M. Chambers, 2003 Most Valuable Student
Sponsoring Lodge: Rock Hill, SC, Lodge No. 1318
Karsten B Coates, 2012 Most Valuable Student
Sponsoring Lodge: Northern Neck, VA, Lodge No. 2666
Ms. Sophia A. Cooper, 2010 Most Valuable Student
Sponsoring Lodge: Los Gatos, CA, Lodge No. 1857
Ms. Alicia Crowder, 2008 Emergency Educational Grant
Sponsoring Lodge: Ogdensburg, NY, Lodge No. 772
Mr. David D. Crowder, 2012 Emergency Educational Grant
Sponsoring Lodge: Ogdensburg, NY, Lodge No. 772
Mr. Christopher J. De La Cerda, 2002 Most Valuable Student
Sponsoring Lodge: Reedley, CA, Lodge No. 2699
Mr. James B. DiCecco, 2009 Most Valuable Student
Sponsoring Lodge: Falmouth, MA, Lodge No. 2380
Mr. Jonathan M. Doloff, 2000 Most Valuable Student
Sponsoring Lodge: Asbury Park-Wall, NJ, Lodge No. 128
Mr. Jeffrey S. Douglass, 1998 Most Valuable Student
Sponsoring Lodge: Winter Park, FL, Lodge No. 1830
Mr. Samuel D. Dowling, 2009 Legacy Award
Sponsoring Lodge: Naugatuck, CT, Lodge No. 967
Mr. Paul J. Eiting, 1998 Most Valuable Student
Sponsoring Lodge: Kaukauna, WI, Lodge No. 962
Mr. Ryan J. Elliott, 2010 Most Valuable Student
Sponsoring Lodge: Atascadero, CA, Lodge No. 2733
Mr. Tanner K. Ence, 2011 Legacy Award
Sponsoring Lodge: St. George 'Dixie', UT, Lodge No. 1743
Mr. Justin A. Erdman, 2008 Most Valuable Student
Sponsoring Lodge: Sunbury, PA, Lodge No. 267
Miss Catherine O. Flynn, 2009 Most Valuable Student
Sponsoring Lodge: Nashua, NH, Lodge No. 720
Ms. Kelsey J. Fogle, 2009 Legacy Award
Sponsoring Lodge: Frederick, MD, Lodge No. 684
Mr. George Christopher Fogwell Jr., 2011 Most Valuable Student
Sponsoring Lodge: West Chester, PA, Lodge No. 853
Recipient of The Richard Harris Most Valuable Student Scholarship

Ms. Cady L. Fontana, 2008 Most Valuable Student
Sponsoring Lodge: Ithaca, NY, Lodge No. 636
Mr. Walter W. Furness, 2008 Most Valuable Student
Sponsoring Lodge: De Kalb, IL, Lodge No. 765
Ms. Emily A. Gaard, 2006 Legacy Award
Sponsoring Lodge: Waterloo, IA, Lodge No. 290
Mr. C. Jonathan Gattman, 1999 Most Valuable Student
Sponsoring Lodge: Florence, AL, Lodge No. 820
Ms. Jaliah B. Gilcrease, 2011 Most Valuable Student
Sponsoring Lodge: Decatur, AL, Lodge No. 655
Ms. Tia E. Gubler, 1999 Most Valuable Student
Sponsoring Lodge: Bountiful, UT, Lodge No. 2442
Mr. Joseph D. Harwood, 2010 Most Valuable Student
Sponsoring Lodge: Augusta, ME, Lodge No. 964
Mr. Hayes Helsper, 2011 Most Valuable Student
Sponsoring Lodge: Marietta, GA, Lodge No. 1657
Ms. Sherry L. Huffman, 1990 Most Valuable Student

Mr. Christopher M. King, 2004 Most Valuable Student
Sponsoring Lodge: Lakeland, FL, Lodge No. 1291
Ms. Peyton E. Krueger, 2002 Legacy Award
Sponsoring Lodge: Denton, TX, Lodge No. 2446
Mr. Prateek Kumar, 2007 Most Valuable Student
Sponsoring Lodge: Colonie, NY, Lodge No. 2192
Mr. Sean P. Loosli, 2003 Most Valuable Student
Sponsoring Lodge: Provo, UT, Lodge No. 849
Ms. Bradee A. Luhr, 2007 Legacy Award
Sponsoring Lodge: Petersburg, AK, Lodge No. 1615
Mr. Hung K. Luu, 2004 Most Valuable Student
Sponsoring Lodge: San Diego, CA, Lodge No. 168
Mr. John W. Mallett, 2008 Most Valuable Student
Sponsoring Lodge: Newton, NC, Lodge No. 2042
Ashlee Manns, 2010 Emergency Educational Grant
Sponsoring Lodge: Okmulgee, OK, Lodge No. 1822
Mr. Bernard E. McDermott, 1982 Emergency Educational Grant

Ms. Tiffany N. McDevitt, 2010 Legacy Award
Sponsoring Lodge: Pascagoula, MS, Lodge No. 1120
Mr. Andrew P. McLaughlin, 1997 Most Valuable Student
Sponsoring Lodge: Arlington, MA, Lodge No. 1435
Ms. Alison McQuade, 2004 Emergency Educational Grant
Sponsoring Lodge: Springfield, MA, Lodge No. 61
Ms. Tracy L. Meng, 2006 Most Valuable Student
Sponsoring Lodge: Cuyahoga Falls-Akron-Barberton, OH, Lodge No. 1923
Mrs. Amelia A. Mitchell, 2000 Most Valuable Student
Sponsoring Lodge: Provo, UT, Lodge No. 849
Mr. David C. Mullins, 2004 Legacy Award
Sponsoring Lodge: Charleston, WV, Lodge No. 202
Ms. Sarah G. Nurre, 2003 Legacy Award
Sponsoring Lodge: Parma, OH, Lodge No. 1938
Mr. Sekhar R. Paladugu, 2008 Most Valuable Student
Sponsoring Lodge: West Covina, CA, Lodge No. 1996
Ms. Jacqueline M. Patterson, 2002 Legacy Award
Sponsoring Lodge: Anchorage, AK, Lodge No. 1351
Ms. Melinda G. Paul, 2008 Most Valuable Student
Sponsoring Lodge: Washington-Rockville, MD, Lodge No. 15
Mr. David B. Phillips, 2011 Most Valuable Student
Sponsoring Lodge: Indianola, IA, Lodge No. 2814
Mr. Sean A. Pringle, 2010 Most Valuable Student
Sponsoring Lodge: Oceano/Five Cities, CA, Lodge No. 2504
Ms. Nyssa L. Puskar, 2002 Legacy Award
Sponsoring Lodge: Colorado Springs, CO, Lodge No. 309
Jennifer L. Quach, 2005 Most Valuable Student
Sponsoring Lodge: Fairfield, IL, Lodge No. 1631
Mr. Christopher J. Rahmlow, 2003 Legacy Award
Sponsoring Lodge: Hornell, NY, Lodge No. 364
Mr. Daniel C. Ratty, 2005 Legacy Award
Sponsoring Lodge: Tenafly, NJ, Lodge No. 2271
Ms. Jennifer L. Rentschler, 2000 Legacy Award
Sponsoring Lodge: Pomona, CA, Lodge No. 2038
Mr. Max W. Rerucha, 2005 Legacy Award
Sponsoring Lodge: Laramie, WY, Lodge No. 582
Mr. Joseph R. Riley, 2002 Legacy Award
Sponsoring Lodge: Tucson, AZ, Lodge No. 385
Ms. Clara L. Ritger, 2009 Most Valuable Student
Sponsoring Lodge: Tahoe/Douglas, NV, Lodge No. 2670
Recipient of The James A. Vecchio Most Valuable Student Scholarship

Mr. Paolo M. Rivera, 1999 Most Valuable Student
Sponsoring Lodge: Daytona Beach, FL, Lodge No. 1141
Mrs. Bryana D. Schreiber, 2004 Most Valuable Student
Sponsoring Lodge: Mount Vernon, IN, Lodge No. 277
Mr. Chad R. Silvernail, 2008 Emergency Educational Grant
Sponsoring Lodge: Brunswick, NY, Lodge No. 2556
Ms. Maryann Slater, 2011 Legacy Award
Sponsoring Lodge: South Plainfield, NJ, Lodge No. 2298
Ms. Erika N. So, 2010 Most Valuable Student
Sponsoring Lodge: Pittsburg, CA, Lodge No. 1474
Jordan Spaulding, 2006 Emergency Educational Grant
Sponsoring Lodge: Lowville, NY, Lodge No. 1605
Ms. Rebecca L. Stringham, 2009 Emergency Educational Grant
Sponsoring Lodge: Attleboro, MA, Lodge No. 1014
Ms. Jennifer N. Swartz, 2007 Most Valuable Student
Sponsoring Lodge: Middletown, OH, Lodge No. 257
Mr. Timothy K. Swast, 2007 Most Valuable Student
Sponsoring Lodge: Fond Du Lac, WI, Lodge No. 57
Mr. Brennan T. Takayama, 2002 Most Valuable Student
Sponsoring Lodge: Hilo, HI, Lodge No. 759
Ms. Jennifer K. Thang, 2008 Most Valuable Student
Sponsoring Lodge: Sunland-Tujunga, CA, Lodge No. 2098
Mr. Jimmy E. Tomczak, 2006 Most Valuable Student
Sponsoring Lodge: Redford (Detroit), MI, Lodge No. 2097
Mr. John Tran, 2009 Most Valuable Student
Sponsoring Lodge: San Jose, CA, Lodge No. 522
Mr. Curtis C. Ullerich, 2009 Most Valuable Student
Sponsoring Lodge: Atlantic, IA, Lodge No. 445
Mayor Zachary J. Vruwink, 2006 Legacy Award
Sponsoring Lodge: Wisconsin Rapids, WI, Lodge No. 693
Miss Macy N. Warburton, 2010 Most Valuable Student
Sponsoring Lodge: Winfield, KS, Lodge No. 732
Mr. Stephen K. Wilke, 2006 Most Valuable Student
Sponsoring Lodge: Columbus, NE, Lodge No. 1195
Ms. Nicole L. Wilson, 2007 Most Valuable Student
Sponsoring Lodge: West Des Moines, IA, Lodge No. 2752
Ms. Shahrzad Y. Zarafshar, 2005 Most Valuable Student
Sponsoring Lodge: Carmichael, CA, Lodge No. 2103
Ms. Nichole J. Zimmerman, 2006 Most Valuable Student
Sponsoring Lodge: Arvada, CO, Lodge No. 2278

---
Back to top