Arm or Head?
Kevin Laue began tackling challenges even before he was born. In his mother's womb, the umbilical cord wrapped around his neck. Kevin fought for his life by using his arm as a shield. The lack of circulation caused him to be born with an arm that ended just below the elbow. Kevin often jokes, "It was either my arm or my head."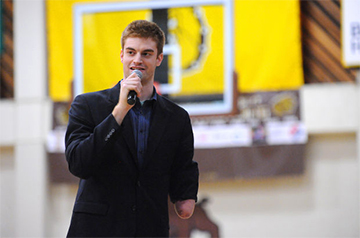 Kevin's humor and drive have continued ever since. He is a true example of the power of grit. Besides having only one arm, Kevin has overcome many other challenges, such as the loss of his father at a young age, the discouragement of coaches, and suffering several major injuries. "The last thing I wanted was to be a product of my circumstance," says Kevin. "I had a dream. Once I learned to change the way I saw myself, I was capable of creating believers out of everybody. I came to realize that nothing is out of reach." Unyielding determination and fortitude helped him earn a scholarship to play Division 1 Basketball at Manhattan College.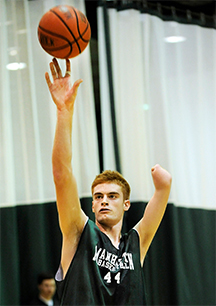 For more than 40 years the Elks Hoop Shoot program has helped young people develop grit, like Kevin. Contestants learn that hard work and dedication help when the odds are stacked against you.
We are proud to announce that Kevin Laue will be the keynote speaker for the 2016 Elks Hoop Shoot National Finals Awards Banquet on April 16 in Chicago.
To learn more about how the Hoop Shoot helps develop grit click here.
For even more about Kevin, click here.
Through the Elks National Hoop Shoot Free Throw Program, the Elks National Foundation offers youth the opportunity to engage in healthy competition, connect with their families and community, and succeed both on and off the court. In 2015-16, the ENF allocated $924,070 to fund this program. For videos, news from the court, and more information about the Hoop Shoot, visit www.elks.org/hoopshoot.
---
Back to top