What's in a Name?
For the Elks scholars enrolled in the MVS Named Scholarship Program, the question of "What's in a name?" has a simple answer—everything.
Through the MVS Named Scholarship Program, every $4,000 pledge to the Elks National Foundation Scholarship Fund over four years results in the donor's choice of name on one runner-up Most Valuable Student scholarship. More importantly, it results in a relationship
To Elks scholars, this program is much more than that name—it's an encouraging investment in their futures and an opportunity to connect with the Elks. After four years of engaging personally with an ENF donor, these scholars graduate from school, more confident in their important role as a member of the Elks family and ready to give back as a result of it.
Read directly from Elks scholars how the MVS Named Scholarship Program has enhanced their experience within the Elks family.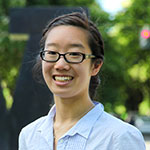 "This scholarship has been integral in providing me with the necessary resources to succeed. It is such a good feeling to know there are people rooting for me through all of the hardships of college and celebrating my successes. Thank you for making such a difference in my life. I am inspired to do something similar in the future!"

Emily Hsieh
Recipient of The Edra N. Carter Memorial Most Valuable Student Scholarship
Named by Mr. Clarence 'Ed' Carter PER of Burien, Wash., Lodge No. 2143
"I hope that you understand just how fortunate I am that you have helped me. I cannot wait until I can get my career established, build myself up, and do exactly the same for another student."

George Werner
Recipient of The Lee R. Curtis Most Valuable Student Scholarship
Named by Mr. Lee R. Curtis of Washington-Rockville, Md., Lodge No. 15
"I can attribute so many of my successes and good times to your scholarship. I have already learned so much—not only academically, but also about life and about myself."

Angela Bladen
Recipient of The Richard Harris Most Valuable Student Scholarship
Named by Mr. Richard E. Harris of Charleston, W. Va., Lodge No. 202
"Thank you for being a bright light in my future. Your investment in the Elks National Foundation has enhanced my life as a college student."

Kye Kurkowski
Recipient of The PSP Dale E. and Levada Nielson Most Valuable Student Scholarship
Named by Mr. Dale E. Nielson of Grand Island, Neb., Lodge No. 604
Strengthen the Elks family by joining in a scholar's journey today! For more information about the MVS Named Scholarship Program, including FAQs and the online enrollment form, click here, or contact Erin Rohan at ErinR@elks.org or 773/775-4858.
---
Back to top