Loyal as an Elk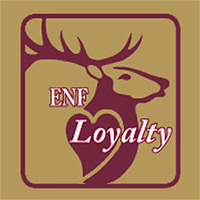 What do 70 percent of Elks from Elyria, Ohio, Lodge No. 465 have in common? If you said they're being welcomed into the Elks National Foundation Loyalty Club in 2013, you're right! At the close of this fiscal year, more than 500 Elyria members will join the ENF Loyalty Club Honor Roll.
Since ongoing support is crucial for the ENF's mission to thrive, the ENF Loyalty Club honors individual donors who give annually for 10 or more consecutive fiscal years. These donors receive an ENF Loyalty pin, a Loyalty Club sticker for their Elks membership card, their names listed in the ENF Loyalty Club Honor Roll, and the fulfillment of helping Elks build stronger communities in the future.
With only 14 Elyria members counted in the ENF Loyalty Club last year, what explains the enormous increase of Loyalty donors from Elyria this year?
"Encouragement from the Lodge," says Development Associate Erin Rohan. "The Elyria Lodge asks for an ENF donation with its dues mailing each year. Now, more than 500 loyal Elks have responded for a decade."
To learn more about the ENF Loyalty Club and giving to the ENF, visit www.elks.org/ENF/LoyaltyClub.cfm or contact Erin Rohan at 773/755-4858 or erinr@elks.org.
---
Back to top