Giving Back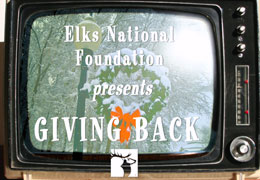 Don't touch that dial! The Elks National Foundation's short feature film,
Giving Back
, will air on the Fox Business News Network on
Saturday, December 29, at 3 p.m. E.S.T.
Spread the word to all of your friends and family members.
The ENF's five-minute segment is part of the 30-minute Giving Back program. Look for us between the segments featuring the National Crittenton Foundation and Georgia Pacific.
Take a peek behind the scenes. Click here to read about the making of the ENF's Giving Back segment.
Please note: The Documentary Channel is available to Dish Network customers on channel 267, and DirecTV customers on channel 197. Fox Business News Network can be found on Comcast channel 106, AT&T U-verse channel 211, DirecTV channel 359, and Dish Network channel 206. Check your local listings to verify the network, and tune in to see how Elks are giving back through ENF programs.
If you are not a cable subscriber, don't worry. The video will be posted online after January 1, 2013, so stay tuned!
---
Back to top