Leader in Loyalty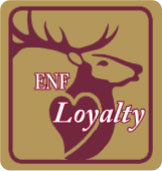 Picture the most loyal person you know. The person you can count on for support year after year. Who comes to mind? Imagine having 4,932 people like that in your life. Feels good, right? At the ENF, we know the feeling thanks to the 4,932 generous donors who comprise the ENF Loyalty Club. These donors have given to the ENF every fiscal year for 10 or more consecutive years. Mickey Kaliterna of San Jose, Calif., Lodge No. 522 shines among them. Along with his wife of 65 plus years, Emma, Kaliterna loyally supports the Elks and the ENF.
"Giving is the most important thing we do as Elks," Kaliterna explains. "The ENF is Emma's and my favorite charitable organization, so we make it a part of our lives."
Decades of Service
A WWII veteran, Kaliterna joined the Elks when he was near the end of his service with the Navy. Once the Lodge's youngest Exalted Ruler, Kaliterna, age 90, is now among its oldest active members. His involvement includes Past District Deputy to the Grand Exalted Ruler and more than two decades of service as Lodge ENF Chair. What's more, he has donated to the ENF annually throughout all that time! "The ENF represents all facets of what the Order stands for," Kaliterna says. "It really is the great heart of Elkdom."
Spreading the Word
Kaliterna makes his passion known to fellow Elks. He recalls promoting the ENF with his dear friend, the late Richard Bartels, PDDGER. He and Bartels regularly included the ENF in their monthly newsletter, "Hot Stuff." They spoke throughout their district about ENF news and led their Lodge year after year to the highest per-capita standing for donations.
"I make sure Elks are well aware of the ENF," Kaliterna says. "Otherwise, they won't know what they're missing!"
With annual support from Kaliterna and his fellow Loyalty Club members, the ENF helps Elks build stronger communities, loyally, year after year.
The ENF Loyalty Club recognizes individual donors who donate to the ENF consecutively for 10 or more fiscal years. View an honor roll of these loyal donors at www.elks.org/ENF/LoyaltyClub.cfm.
---
Back to top