Going the Distance for the ENF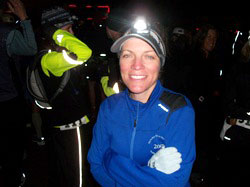 Some people don't look forward to a 100 mile drive. Then, there are people like Denise Michard, member of Cahaba Valley, Ala., Lodge No.1738, who set out to run 100 miles. Michard began running at the age of 40 and decided that she was going to celebrate her 45th birthday with a 100 mile race to raise money for both the ENF and a children's hospital in Birmingham. So, Michard signed up for the Umstead 100, a 100 mile endurance run that takes place near Raleigh, N.C.
After years of hard work, Michard traveled to North Carolina in April 2011 to begin her 100 mile adventure. The race began at 6:00 a.m. and the runners were given 30 hours to complete the entire race. The course consisted of a 12.5 mile loop of rolling hills that the runners repeated eight times to total 100 miles. While completing her second lap of the course, Michard was surprised to see some familiar faces cheering her on. A fellow Cahaba Valley Lodge member and his wife had traveled more than 9 hours just to support her during the race!
At mile 26, Michard began to feel unwell. Not willing to give up, she continued to run until the 62.5 mile marker when she was pulled from the race due to hypothermia and dehydration. The medical staff took Michard to a cabin to warm her up and help her rehydrate. Although she fell short of her 100 mile goal, her journey did not stop there.
Upon returning home to Alabama, Michard wrote a race report and within a week was contacted by the race director and invited back to run in 2012. This is a huge honor for Michard as only three people are invited back each year. Michard gladly accepted; she was determined to accomplish her 100 mile goal. She began her training for next year's race in May and will continue her training runs, totaling about 3,250 miles, right up until race day at the end of March.
Michard will again be raising money for the ENF and the children's hospital, and we wish her nothing but the best!
To read Michard 's full race report, click here to visit the Cahaba Valley Elks blog.
---
Back to top