Larry Stitt Finds Perfect Fit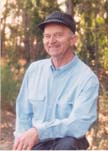 When Larry Stitt joined the Elks more than 30 years ago, he was swayed by the steak dinners offered by his local Lodge. But he quickly found that his commitment to sharing wealth and supporting education was a perfect match to the mission of the Elks National Foundation. Since then, Stitt, who has reached the ENF's Gold ($20,000) level of giving and is the state ENF chair for the California-Hawaii Elks Association, has found that by contributing financial resources, time and talent to the ENF, he can inspire others to make the world a better place.
Education Is a Priority
Supporting education has been a priority for this former civil engineer since his college days at California State. Stitt, a member of the Carmichael, Calif., Lodge, gave financial assistance to his sister, who worked her way through college, and his brother, who earned his degree through the GI Bill. He has also helped his nieces and nephews attend college and has endowed several university scholarships. "My commitment to giving," Stitt says, "is best described by a Winston Churchill quote: 'We make a living by what we get, but we make a life by what we give.'"
Unexpected Ways
Stitt has found Elkdom to be a great vehicle to support the causes he feels passionate about. "The ENF fi ts into your life in unexpected ways," he says. During his tenure as ENF chair, the Carmichael, Calif., Lodge, has excelled at the Per-Capita and Chairman's Challenge contests. In May, he was appointed the chairperson of the California-Hawaii Elks Association's National Foundation Committee. "I like being the Lodge and state ENF chairperson because the ENF furthers the education of America's youth," Stitt says. "The ENF appeals to a broad range of membership interests. Donors get a big bang for their buck; the Foundation responsibly administers its programs."
Investing in His Community
Stitt plans to encourage Lodges to get involved in the ENF's Community Investments Program. His Lodge held a Safe Night graduation party for seniors in the Carmichael, Calif., community and received funds for the event through the Promise Grants Program. "It's fun to watch the seniors entertain themselves and celebrate their achievements," Stitt says. "I'm glad that the Promise Grants program is now part of the Community Investments Program. Everyone involved with our Safe Night really enjoys it."
Stitt hopes that his efforts and financial support will make a tangible difference in some young person's lifetime achievements. He quotes Albert Einstein to help describe his goals for the future: "'It is the responsibility of every human being to aspire to do something worthwhile, to make the world a better place than the one he found.'"
---
Back to top