In baseball, scouts grade players based on five tools that are central to success: hitting, hitting for power, running, fielding and throwing. Teams need players who possess several of those tools; they covet the ones who have all five. Five-tool talents are rare.
While speaking recently at the fall meeting of the Ohio Elks Association, ENF Director Jim O'Kelley reflected on the ENF equivalent of the five tools.
"I could only come up with four," he acknowledges, "but I think they capture the ways so many Elks contribute to our success."
To thrive, the ENF needs volunteers to work the programs it funds, volunteers to raise money, donors with a generous spirit, and Elks leaders who use their platform to amplify the Foundation's mission.
"Many, many people do one or two of those things for us," O'Kelley says. "Even three. But all four? I only know of one."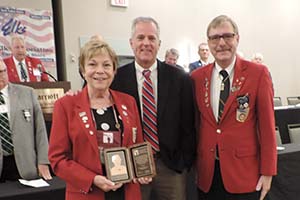 And that's why he went to Ohio—to present the first ever Champion of the ENF Award to four-tool talent Mary Carolyn Nichelson.
Nichelson joined Ohio River Valley, Ohio, Lodge No. 231—at the time, Martins Ferry Lodge No. 895—in 1997. She quickly immersed herself in the Lodge. Nichelson has served as the Lodge, District, and State Fundraising Chair for years. She also has volunteered with the Ohio River Valley's Community Investments Program grant projects.
"I feel we have made a huge difference by touching many aspects of people's lives," Nichelson says. "Without CIP grants, our small Lodge could never have accomplished the numerous programs we initiated."
What draws Nichelson to volunteerism is threefold. First, Elks build community with their neighbors through grant projects. Next, Nichelson sees their "sweat equity" as an investment in the Lodge's future. Lastly, helping others makes her feel good, too—about her role in building stronger communities and how ENF programs elevate the Lodge.
"Being an Elk [means] a great deal more than socializing," Nichelson says. "The ENF has altered the impression of the Elks in our local area. We're not just a bar anymore."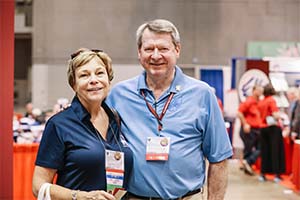 On top of giving her time, Nichelson and her spouse, Past National President Jim Nichelson, support the Foundation by donating.
"Giving is a virtue that was modeled to me as a child," Nichelson says. "For me, it is important to share my bounty with others. The ENF allows me to do that knowing that what I give will be responsibly used to build a future of giving."
Nichelson gives through the Fidelity Club, the ENF's monthly giving program. She appreciates the ease of it, and she shares why she gives that way with her Lodge members.
As Fundraising Chair, a dedicated volunteer and an exemplary Elk, Nichelson spreads the word about the Foundation and its programs by writing articles for the Lodge bulletin, inviting members to volunteer, and asking them to give their time, talent and treasure.
"Educating people about the ENF is the best way to inspire them to support its efforts," she says. "If they understand how important the ENF is to the Elks and to our Lodge, they will give."
It's that willingness to raise awareness and inspire that makes Nichelson an incredible advocate for the ENF—and an obvious choice for the first Champion of the Order Award.
"Some days being an Elk means a great deal of work," Nichelson reflects. "Other days being an Elk means laughter and being with friends. But all days, being an Elk means reaching for my best self and sharing it with others."
A 501(c)(3) public charity, the Elks National Foundation helps Elks build stronger communities through programs that support youth, serve veterans and meet needs in areas where Elks live and work. For more information on the ENF, visit elks.org/enf.