Anthony Muoio started volunteering when he was just three months old. His parents, Sarah and Robert, brought him along as they completed service projects in their community.
When the Muoios joined Milford, Conn., Lodge No. 1589, it was only natural that Anthony tagged along on Lodge charitable projects. He was just one year old when his parents became Elks, but as he's grown, so has his involvement with the Milford community.
"Anthony is willing and excited to get involved with any project our Lodge hosts," Sarah says. "From handing out awards at our Soccer Shoot and serving food to veterans, to collecting toys and monetary donations and just cleaning up at the Lodge, he truly enjoys just being involved."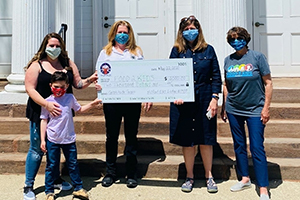 When Robert was installed as the Milford Lodge's Exalted Ruler in 2017, Anthony was given the position of Executive Assistant to the Exalted Ruler. Anthony held that role for two years, and when his dad's tenure came to an end, the new ER asked Anthony to continue his service as the Milford Lodge's Community Ambassador, a role he still holds today.
Anthony, now six years old, helps with Lodge service, including the Lodge's Community Investments Program grant projects; Sarah is the Milford Lodge's Grants Coordinator, a role she's held for four years.
In the past three years, Anthony has lent a helping hand to almost every CIP project. Due to the flexible CIP grant guidelines in 2020-21, the Lodge chose to donate their grants this year in lieu of active projects. Anthony tagged along to donate the Milford Lodge's Gratitude Grant to Milford Food 2 Kids to support its weekend food program for 670 students as they transitioned to remote learning.
"Getting to see the people smile when we help and taking pictures with them," is Anthony's favorite part of being the Community Ambassador. "I like to look at the pictures on rainy days because it makes me cry happy tears," he says. "I also like it because I can spend time with my Elks family."
Anthony's work with the Lodge earned him recognition in the community. He won the 2020 Mayor's Youth Award, which recognizes kids who perform outstanding service.
"It made my heart happy and made me feel proud of myself," he says about receiving the award. Besides his work with the Lodge, Anthony spends time raising awareness for childhood illness organizations, something close to his and his parents' hearts.
Anthony was diagnosed with a pediatric brain tumor when he was just five months old. He underwent a nine-and-a-half hour surgery to remove the tumor, but he survived a stroke and still lives with epilepsy. He is part of Tiny Superheroes, a group that empowers children with disabilities.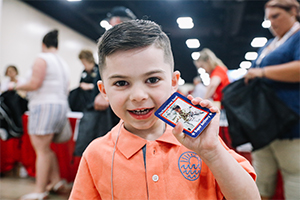 Tiny Superheroes created a trading card for Anthony, and his parents carry the cards with them everywhere they go—including to the 2018 Elks National Convention in San Antonio, where he traded Elks pins for his cards.
The Muoios joined the Order to give back in a big way, but Sarah's favorite part of being an Elk is something she never expected when she signed the membership application.
"[The Elks] are the people who carry us through the difficult times and are always there with a smile to celebrate our successes," Sarah says. "Being an Elk has made us a lot richer, as a family, in the things that money just can't buy."
For Sarah, reflecting on Anthony's involvement at the Lodge brings up many emotions. To have a community her family can turn to makes parenthood a bit easier. And she knows that Anthony has a family of role models that he can look up to in many ways.
"Every person he's close to brings something different to his life," Sarah says. "I truly feel that Anthony is who he is because of the many Elks who take time out of their busy lives to invest in him and his future."
As for Anthony, one thing is a given: he knows part of what his future holds: when asked if he'll join the Order one day, he has a straightforward answer.
"That's a silly question because I already am an Elk," he says.