Son of a Preacher Man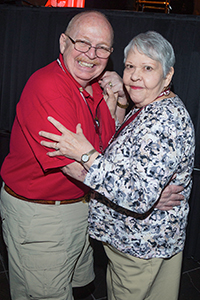 It might have been around the time he was learning to walk, or maybe when he was putting his first string of words together, that Stephen Barker was taught by his father, a preacher, and mother that one of the most important things he could do in life was tie himself to the causes he supports and to help others. All we know for sure is that it started early.
"I was brought up to always give back," Barker shares.
Barker jokingly recalls that his mother's true profession might have been a travel agent "because she booked me on so many guilt trips."
"There was no way I wanted to get on one of those," Barker says.
Well, the guilt trips worked. When Barker met his best friend, his late wife Sue, 50 years ago at a small Baptist university in southwest Missouri, he knew she was his soulmate because of their shared compassion toward the world.
"We had the same ideals and everything," Barker says, "I mean, back then, we gave when we could even though we didn't have two nickels to rub together."
But they always had enough to support the causes they cared about. After moving from Arkansas back to California in 2015, a friend introduced them to the Elks and the Elks National Foundation.
"When we saw how important the ENF was, we just decided that's our tie," Barker says. "We put every penny that we could possibly tie in there."
Barker says joining Carmichael, Calif., Lodge No. 2103 was one of the best decisions of his life. He's an involved Elk, member of the John F. Malley Society and silver-level donor. Although Barker donates to every ENF program, there's a special place in his heart for scholarships. When his mother passed away, Barker and his wife established scholarships at his and his parent's alma maters.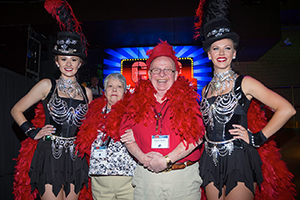 "Trust me, we're not made of money whatsoever," Barker shares. "It's just an obligation that you're born and raised with, and, if you don't, you've got a major case of the guilts."
In 2016, he attended the Elks National Convention and the ENF's donor event, an unforgettable experience that left him and his wife wondering if they were going to get a crown and tiara "because we're getting treated like royalty." These are the moments he cherishes sharing with his wife and the Elks.
It only took a few years, but Barker compares his comradery with the Elks to what he shared with his coworkers from the force when he served as a police officer for 26 years. Most recently, he recalls the Elks being there when he needed them most.
"When my wife died, I got so much comfort from the Elks," Barker shares. "So much."
He just wishes she could've stayed around a little longer, so he could've talked her into becoming an Elk herself.
When Barker isn't busy supporting the ENF or helping the Elks build a stronger community in Carmichael, he's watching his son and daughter-in-law raise his 8-month-old granddaughter, Ellie. Next, he's excited to catch up with everyone at the 2019 Elks National Convention.
"See you in St. Louis!" Barker says, before signing off the call.
Leave your legacy. For additional information about ENF planned giving, please visit ENFPlannedGiving.org. To discuss planning a gift to the Elks National Foundation, please contact Kate Keating Edsey at KateE@elks.org or 773/755-4866.
---
Back to top