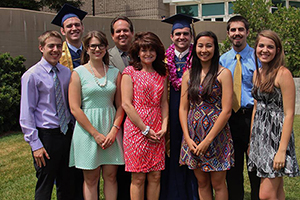 When Kristiana Zufall sat on Santa's lap at her local Elks Lodge 15 years ago, she asked for a much smaller gift than the one she recently received. A 2015 Legacy scholarship from the Elks National Foundation has made it possible for her to attend University of California-Davis.
Her parents met while they were students at UC Davis. Now all five of their children have attended the university where it all began. More amazingly, all five of the Zufall children have earned the honor of becoming an Elks scholar, four Legacy and one Most Valuable Student.
The Zufalls were drawn to the school for various reasons, including its rigorous academic programs to meet all their interests, as well as its proximity to home.
"As a close-knit family, we feel it's important to be able to see each other more often, so moving far away had never been appealing," says Adam Zufall, a 2014 Most Valuable Student scholarship recipient, who is studying engineering.
The children have taken advantage of their proximity and remained in close contact, including sharing home cooked meals and attending church together on a weekly basis.
Besides sharing meals, the siblings share a common goal. Every one of the Zufall children intend to use their education to serve others
Kaitlyn Zufall, a 2008 Legacy scholar, is studying to become a dental hygienist so she can help people in need while serving on medical missions teams.
Younger brother, Adam, is hoping to use his studies in engineering to make a positive impact on the world through technology. He aspires to work at NASA in their research branch, after attending graduate school at MIT.
Middle brother, Andrew, is a 2010 Legacy scholar. He also inherited his family's love for serving others, and shares his older sister's Kaitlyn's interest in dentistry. He is currently working as a dental assistant, with plans to attend dental school in the future.
Andrew and his wife are also in the process of becoming members of their local Elks Lodge. "I try to give back to my community the same way the Elks gave to me," explains Andrew.
"Being an Elks scholar gives me incredible pride," declares Kristiana. Her brother Adam shares in his sister's gratefulness, "I think I speak for the whole family when I say a very big 'thank you!' to the Elks for the impact it has had on all of our lives' pasts and futures," he says.
As you watch children climb up on Santa's lap at your local Lodge, think of the Zufalls and how your gifts have empowered them to help others! Merry Christmas!
In 2015-16, the Elks National Foundation appropriated $4.16 million to fund the ENF scholarship program, which provides college scholarships, ensuring a bright future for our nation's youth. As important parts of the Elks family, Elks scholars have many social and service opportunities to connect with the Elks and each other. For more information about our scholarship programs, and for ways Lodges can get involved with Elks scholars, visit www.elks.org/enf/scholars.